We end November today with a trio of Fed yakkers–they will, almost without, doubt move markets.
Today we have Fed speakers Cook and Bowman as well as Chair Powell at 12:30 p.m. (central) so we will see some spikes and dips in markets during the day–long term it doesn't matter. No one will be dovish – it is just a matter of how hawkish they will sound.
To me, personally, we have more important news today than Fed speakers. We have the 'jolts' report so we will see how many job openings we have out there. We also have the ADP employment report at 7:15 (central). Chicago PMI and pending home sales are also on tap. Then we have the beige book release which will give us a recap of regional information from the various Federal Reserve banks.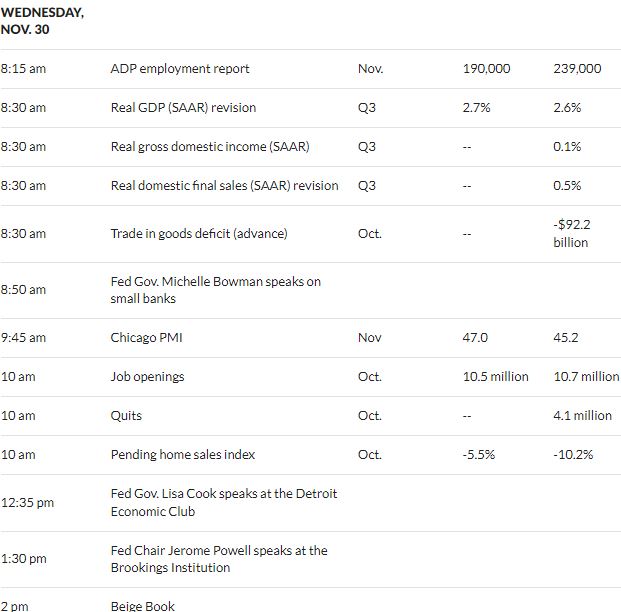 Once again the futures markets are very quiet at 6 a.m. – S&P500 up 1/5%. The 10 year treasury yield is at 3.72%–just right again.
Today my plan is to buy some community/regional bank preferreds as I noted here. Next I will be looking over the portfolios to see what I can can sell to generate some investable cash–some positions are overweight and with my low cash position I will be forced to sell something if I see a 'bargain' appear. On the other hand maybe I won't have to sell anything–depending on the timing of a 'bargain' purchase since I will have 3 month treasuries maturing in December–we'll see.
Well winter is back in Minnesota – I was hoping for more global warming, but with 6″ of fresh snow on the ground we may not see the grass for 4 months or so. Worse than the snow is the cold and the wind–will be around zero today with the wind chill and I will be out looking at a house mid afternoon–ugh!! Actually I have plenty of weapons against the cold–I mean I have lived in Minnesota since 1985 –plenty of super warm coats, hats, gloves and boots. Only 2-3 days ago I saw folks walking around in t-shirts and shorts–that is how it works in Minnesota–when it is 40 or 45 degrees and sunny folks think summer is here and dress accordingly.