Last week, which was a shortened holiday work week, the DJIA traded in a range of 25,805 to 26,075 before closing the week at 25,917.  The 10 year treasury traded in a range of 2.87% to 2.95% and closing the week at 2.94%.  This is the highest closing price in a month and reflects the relatively big jump in wages reported to be up .4% during August.
Last week we had the ISM Manufacturing Index which was reported at a hot 61.3% which was way above the consensus of 57.9%, while Vehicle Sales and Construction Spending both came in light of forecast.  The ISM Non Manufacturing Index came in above expectations while Factory Orders fell.  Certainly seems more like a Goldilocks scenario instead of an inflationary one, but one month is not important and we will have to wait another month to see if wages keep rising.  Certainly there is nothing here to worry much about yet–and the Fed has no reason to pause interest rate increases.
For today we have Consumer Credit being released and this one has importance to us (although likely not to markets) as we like to see if the high consumer confidence translate into borrowings.  Wednesday we have the Producer Prices being reported and Consumer Price Index being released on Thursday.  Only the CPI will be considered to be important and we want to follow that just a bit.  Friday there are a number of reports, but as usual none are important from a equity market or interest rate perspective.
The Fed balance sheet assets fell by $10 billion.  We have reached a point where this is running off at a good pace week after week.  In another 5 years or so the Fed will have a balance sheet 1/2 the size of the current level.  Likely we never reach this point as that assumes we don't have a recession in the next 5 years–highly unlikely.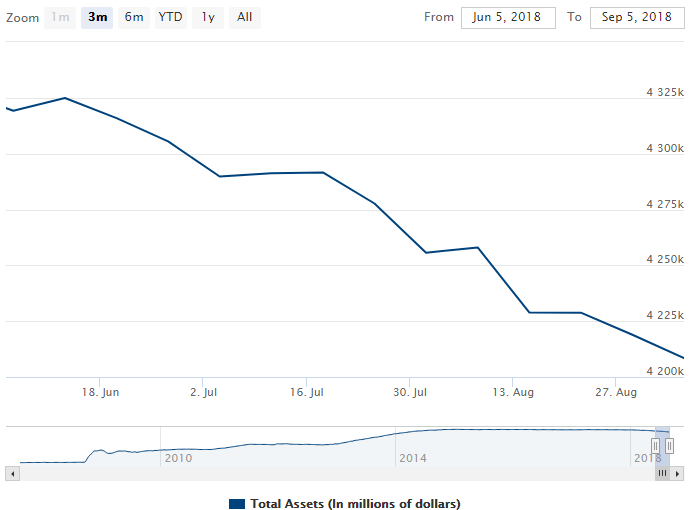 For a short week we had a number of new income issues priced.  MetLife spinoff Brighthouse Financial sold a baby bond with a 6.25% coupon.  Monroe Capital Corp (a BDC) sold a baby bond with a 5.75% coupon and a short maturity in 2023.  Financial services company B Riley once again came to market with a 6.875% baby bond.  Additionally shopping channel QVC came with a baby bond priced at 6.375%.
The average $25 preferred stock fell by a dime last week–I guess it was a stealth move lower as it didn't appear to affect anything we owned.  There are now 174 issues trading at $25 or lower compared to 147 the week before–makes sense as the prices fell as the 10 year treasury rose to higher levels.