What a wild week in the stock market–we could use a bit of a break this week, although with the CPI release on Thursday that is unlikely to happen.
The S&P500 closed up by 1.4%—but traded in the wide range of 3605 to 3807–giant rally's early in the week with plunging markets late in the week.
The 10 year treasury traded in a range of 3.56% to 3,91% before closing near the high at 3.88% which is 8 basis points higher than the close the previous Friday. So we are just 12 basis points below the high yield which occurred on 9/27/2022. No doubt we will see movement in bonds on Wednesday and Thursday as we have Producer Prices (PPI) released on Wednesday and then Consumer Prices (CPI) on Thursday. Right now there will be a 75 basis point Fed Funds rate hike on 11/2/2022–and it is highly unlikely that inflation cools enough to make any expectations of a smaller hike realistic. Reminder–treasury markets are closed today for Columbus Day.
The Fed balance sheet fell by about $45 billion last week—one of the bigger reductions in Fed assets that we have seen. This puts the balance sheet reduction at just over $200 billion from the all time high near $9 trillion.
Last week the average $25/share preferred stock and baby bond fell by 21 cents. Investment grade issues fell by 20 cents, banks by 16 cents and CEF issues by 19 cents. Insurance issues were off by 34 cents while BDC baby bonds were up by 3 cents.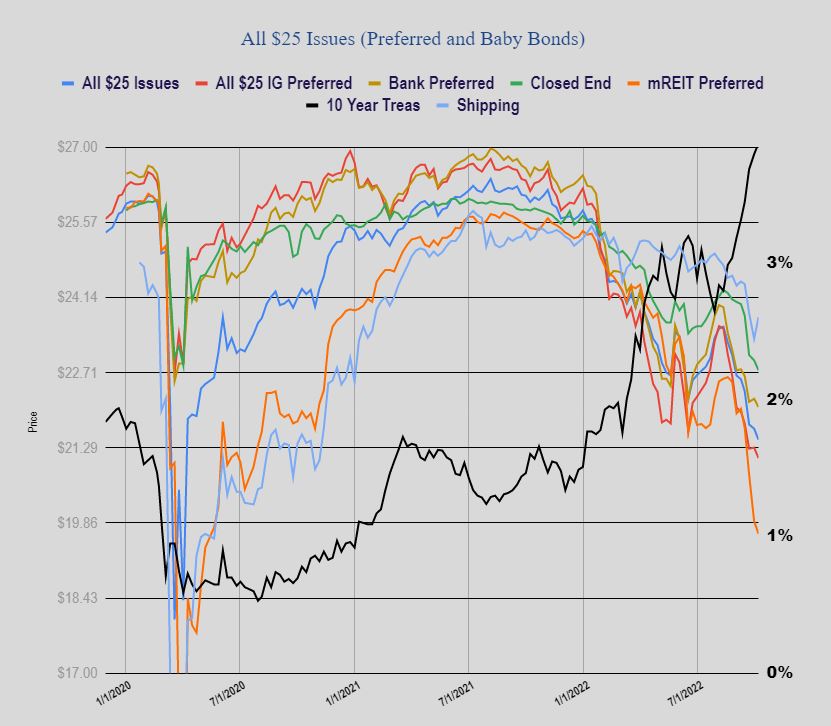 Last week we had no new income issues priced.