Is it Monday already?  We have reached the time of year when the weekends go too fast and Monday arrives way too soon, but alas it is Monday.
Last week the 10 year treasury opened the week in the 2.95% area and  bounced up and down 4 basis points from there through the week, before closing at 2.94%.  Out of all the economic items announced last week not a 1 of them was important enough to move the needle on interest rates.  Really the only 2 economic items anyone paid any attention to was the wage inflation component of the employment situation report, which was benign, and the announcement at the end of the FOMC meeting on Wednesday which also contained no real surprises.  The Fed announcement on Wednesday contained nothing to make anyone believe that the Fed Funds rate hikes wouldn't continue and thus it is likely that we will see a 1/4 point hike in June.
For this week we have 5 speeches by Fed presidents–seems like these are always about the most important things that occur in a given week.  Markets listen way too closely to these folks–any given president has his/her opinion only–on its own it has almost no meaning (from our perspective).  We ignore them and investors would do well to do the same.  On Tuesday we have the Job Openings and Labor Turnover report (JOLTS) on Tuesday–no likely surprise or market reaction to this report.  Wednesday we have the Producer Price Index (PPI) being released and on Thursday the Consumer Price Index (CPI) being released.  The PPI is typically ignored but the CPI will have the power to move the markets. CPI is estimated at up 2.5% year over year, but at up 2.2% less food and energy.  With energy prices moving higher we could see a pop in the CPI (although not in the core rate which is less food and energy).  Of course rising energy prices takes a little money out of the consumers pocket which will not be able to be spent on durable goods down the road.  Beyond the above we will have some treasury auctions, as we do every week, but generally this week has minor treasury auction action.
Last week in spite of the lack of movement in interest rates we saw the average preferred and baby bond move lower by a 6 cents to $24.82.  We now have 210 $25 preferred stock issue trading under $25 which is 7 less than the week before, but still one of the highest levels of issues under $25 for the year.
The Fed balance sheet run off remained active with a runoff of $16 billion last week.  This is a large amount relative to most weeks and gives a two week total of $29 billion run off.  As we have written a million times we believe this runoff is what is keeping upward pressure on interest rates (along with huge treasury demand for new money).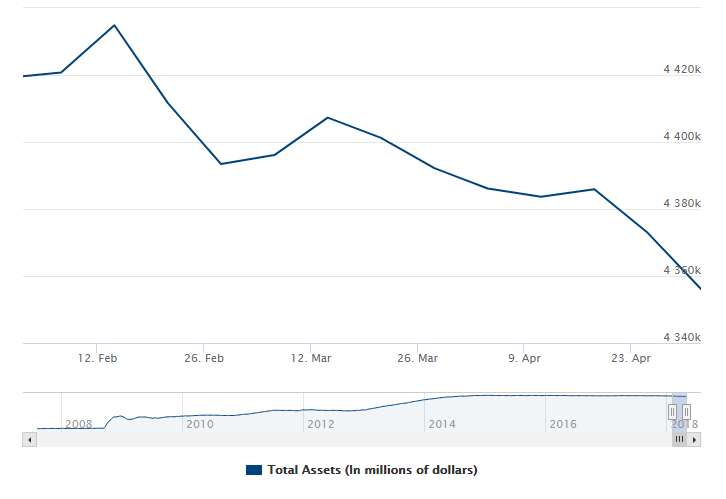 The news we stumbled across this morning is that the treasury raised $488 billion in new money during the 1st quarter (January through April), but ended the quarter with larger than expected cash balances on hand because of higher receipts and lower outlays.  This means the needs for the 2nd quarter are just a measly $75 billion of new money.  This is good news for income investors as it will take a bit of pressure off of interest rates.  So we will have continued pressure on interest rates caused by the Fed runoff, but we will only have modest pressure caused by the needs of the Treasury.
A couple new issue baby bonds started trading at the end of last week.  The Sutherland Asset Management (NYSE:SLD) 6.50% baby bonds (NYSE:SLDD) started trading and closed the week at $25.13.  Also the 5.25% baby bonds (NYSE:HCXZ) of Hercules Capital (a BDC) started trading and are below $25 at $24.87.








Given that we have plenty of cash available in the Medium Duration portfolio we will add a 1/2 position (200 shares) to this portfolio today of the Sutherland Asset Management 6.50% baby bonds.  While we don't view Sutherland as a great REIT we do think with a maturity date in 2021 and a 6.50% coupon it is reasonable to hold in this portfolio.