So we got the news out of the way with the Fed rate hike yesterday – and then plenty of news this morning – almost all of it bullish for the economy.
Jobless claims came in less than expected–and ongoing claims continue to move lower as well. Durable goods orders were strong–although taking out transportation they were flattish. The 1st read on GDP was stronger than expected. On and on – there is nothing here to make one think the Fed is wrong by lifting interest rates.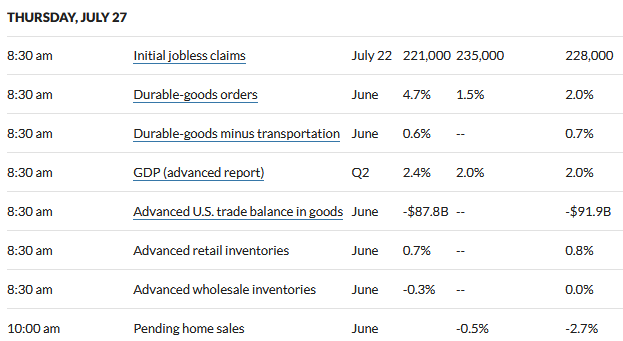 Checking CD rates just now I see that banks are not lifting their rates to match the FED – maybe they have plenty of deposits? Don't know – will have to keep watching them.
I am back on the hunt right now for so preferreds or baby bonds to buy – not a lot as my cash stash is modest and will stay that way until 8/15 and 8/31 when I have some bonds and CDs maturing. I am very tempted to buy some more of the Affiliated Managers Group (AMG) baby bonds–a current yield of 6.5% for a very solid Baa1 issue (MGR) is fairly tasty. The company just released earnings yesterday and they are a very solid company. Also everyday I look at the CHS issues and at the 7% area should one just add more of these issues (CHSCM and CHSCN) – both are fixed to floating with a decent 'spread' but the upside is capped at 8%. We'll see.