NOTE–I just bought a 1/2 position for 24.94. If we get some slippage I will add to the position.
I have surveyed the Business Development Company (BDC) landscape and have come up with what I believe are the 2 best buys available for my level of risk tolerance.
1st I will be buying some of the new Capital Southwest Corp (CSWC) 7.75% baby bond (CSWCZ). Honestly this is one of the top BDCs available in my mind. The baby bonds were issued with a Baa3 rating from Moody's (per June 7 ratings action)- this is very unusual – of course virtually no baby bonds from BDCs are rated. Ratings mean zip if the company is poorly managed–so I have scrutinized SEC reports.
Like most business development company's CSWC is required to maintain a 150% asset coverage ratio–but they have a self imposed limit of 166% which is tighter than the official requirement.
CSWC has maintained a relatively flat share net asset value during the last 2 years–no small feat in these times of skyrocketing interest rates and indicates there have been very few write downs in the portfolio.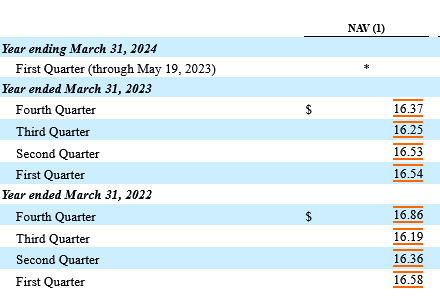 The investments made by CSWC are mostly 1st lien loans – I don't want a BDC that have a portfolio full of 2nd lien stuff – that is worth zip to me – I want to be paid 1st.
The portfolio is in the $1.3 billion dollar range (as of 3/31/2023)–a fairly large portfolio for a BDC. The debt portion of the portfolio has been self rated as shown below. 1 is performing 'better than expected'–a 2 is 'as expected' 3 is 'below expectations and 4 is 'crap'. As of 3/31/23 .3% of the portfolio is on 'non-accrual'.

CSWC was formed in 1961 and elected to become a BDC in 1988–so this one has been around quite a while.
Here is the company's 3/31/2023 10-K (annual report)
and here is the 'glossy presentation' from May 23, 2023.
As always this is not a recommendation to purchase this security and everyone should do their due diligence by reading the 10-K and by perusing the presentation and other pertinent data.