Well here we go into what is potentially a year filled with land mines in the form of increasing interest rates. Of course this statement has been made many times in the last decade by myself and the talking heads on the boob tube. As a number of folks have commented in the last year–watch what the Fed does, not what they say. Will Powell do another about face and become dovish when we get the next inflation number? Will he backpedal when equity markets tumble 10% in a week? Nothing is known for certain–we'll just all have to wait and see.
Last week the S&P500 rose once again with a gain of just less than 1% closing at 4766. This morning the futures market is up over 1/2%–will it hold – no one knows of course.
The 10 year treasury closed last week at 1.51% which was up 2 basis points from the previous Friday's close. Interest rates are trading a couple more basis points higher this morning at 6 A.M.
The Federal Reserve balance sheet grew once again on the week–this time by $34 billion. That is a 2 week growth of $126 billion and December growth of $140 billion. NOTE that the FED is a week behind in updating number because of the holidays. This number is about timing and we should see a big slowdown in this growth soon with tapering.
The average $25/share preferred stock and baby bond rose by 11 cents last week. Banks rose by 9 cents, investment grade issues by 14 cents and mREIT preferreds by 11 cents and shipping preferreds by 7 cents. December is a big ex dividend month and likely we have some bounce back from ex-dividend dates.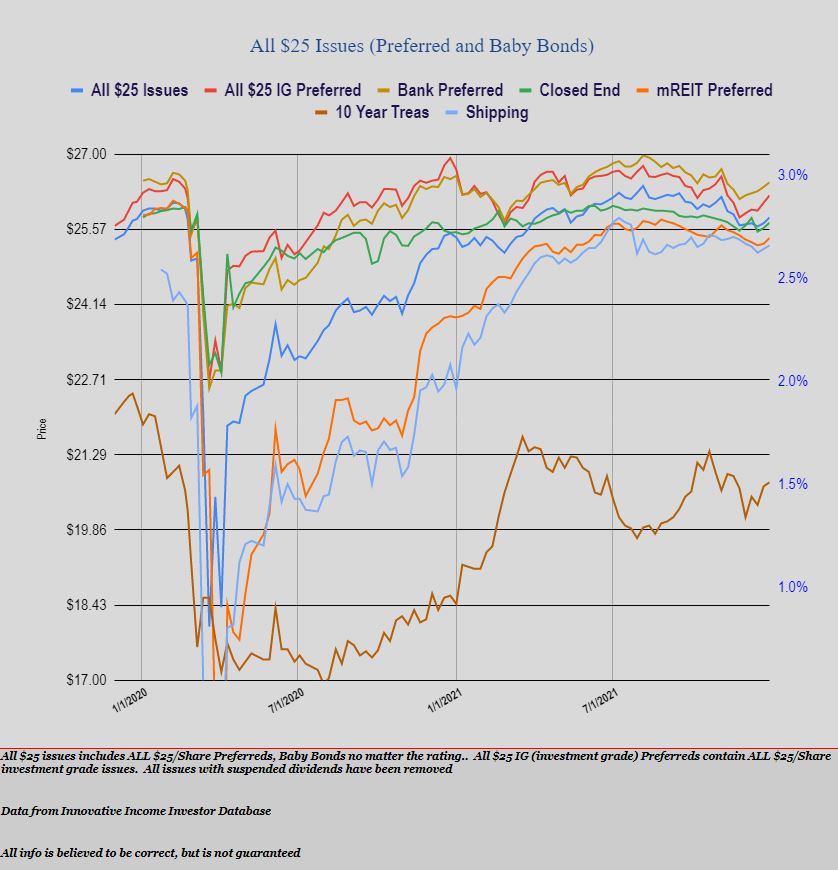 Last week once again last week we have no new issues in the baby bond and preferred stock arena. We should see issuance get back to a more normal pace this week.