Time to get back to the markets–a beautiful, warm weekend in Minnesota makes one forget we could be hammered by a blizzard within a couple weeks–oh well enjoy the warmth while I can.
Last week was a bit crazy in the equity markets–nothing too new I guess. The S&P500 gained about 4.7% from the previous Friday close–the close was near the high for the week. Tonight the futures markets are up about 1/2% — of course not guaranteed to last even through the night.
The 10 year treasury yield closed last week at 4.21% which was 20 basis points above the close from the previous Friday. The rate hit 4.33% on Friday backed off sharply as Friday wore on and as the talk turned to a potential pause in rate hikes in December or at least a reduction in the size of the hikes. Very interestingly many preferred stocks and baby bonds were down badly (i.e. 1% – 2%) and reversed and closed higher.
This week we have numerous economic data points being released. We have manufacturing and services PMI released tomorrow morning. Tuesday we have home price indexes being released as well as Consumer Confidence . On Wednesday we have new home sales. Thursday brings the 1st read on GDP for the 3rd quarter as well as durable goods orders. Friday brings the personal consumer expenditure price index and consumer sentiment. We have any number of these reports that could move markets–either way.
The Federal Reserve balance sheet fell by $15 billion–down $73 billion for the last 4 weeks.
The average $25/share preferred stock and baby bond took a beating last week falling 43 cents. Investment grade issues fell by 54 cents, banking issues by 31 cents, insurance issues by 44 cents and BDC debt by 47 cents.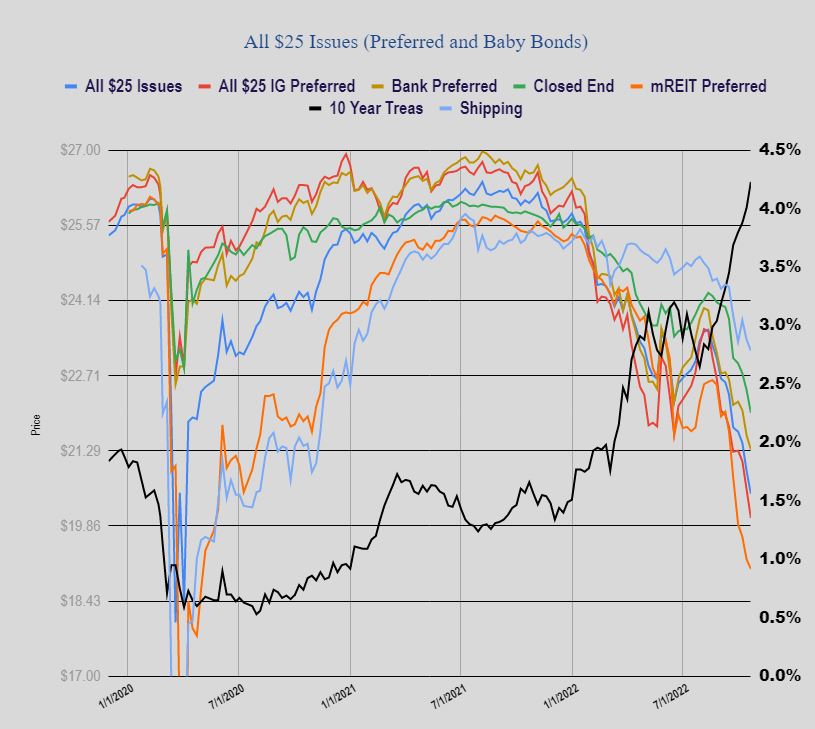 Last week we had one new income issue price. Saratoga Investment (SAR) priced a new baby bond with a 8% coupon. The issue is not yet trading although I expect it will trade sometime this coming week.