Last week the S&P500 fell by about 4.6% — it had fallen 4.8% the previous week–so 9.4% in a 2 week period.
The 10 year treasury yield moved up a hefty 1/4 point after rising about 15 basis points the week before. The yield closed the week at 3.70% . At this moment (6 am central) the 10 year yield is at 3.79%–the 2 year is at 4.30%.
The Fed balance sheet fell by $16 billion last week. The balance sheet is now off $150 billion from the peak in April–around 1.5%. It is pure silliness to believe that the balance sheet will shrink by a meaningful amount, in fact, I think the Fed will slow the reduction later this year as interest rates move higher.
The average $25/share preferred and baby bond moved lower by a giant 63 cents per share. Investment grade fell by 48 cents, banks fell by 49 cents, CEF preferreds fell 75 cents, mREIT preferred were decimated, falling 88 cents. BDC issues fell by 25 cents and insurance issues fell 52 cents.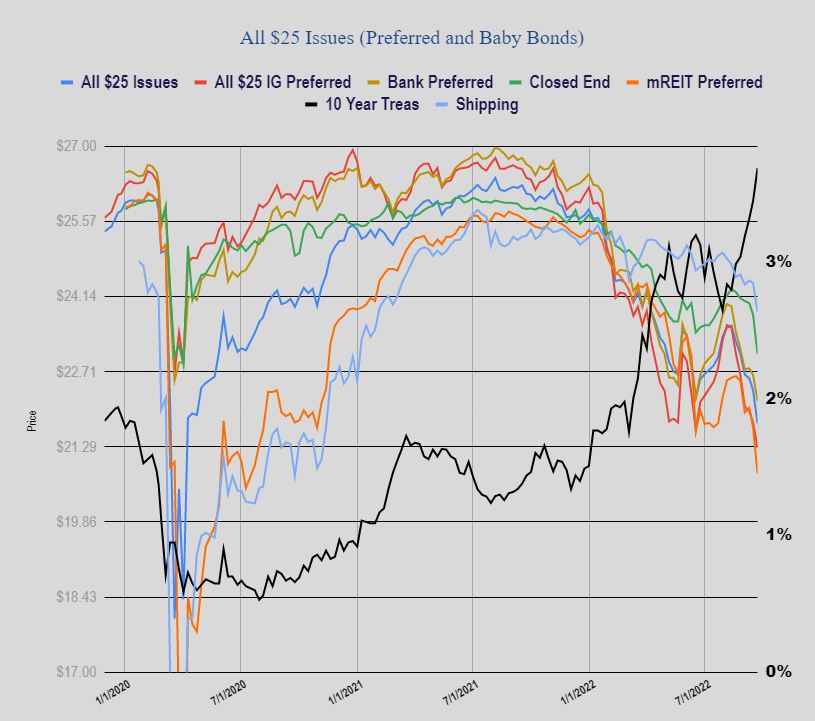 Last week we had 1 new income issue priced. Merchants Bancorp (MBIN) priced a new fixed rate reset with a very tasty 8.25% initial coupon.
The issue is trading OTC under ticker MBIPL now trading around $24.80.