I thought I would take a little time to review the alternate bond type investment offered by the Uhaul Investors Club. For those of us that have been around a while we are probably already aware of this opportunity, but we have thousands of readers each week and many likely are not aware.
IMPORTANT NOTE–once you invest in these securities THERE IS NO SECONDARY MARKET so you will be holding these issues to maturity–although we note that the company will transfer them to another individual if you know of someone who would like the purchase. So do not invest the weekly grocery fund in these securities or you will be going on a diet in the weeks ahead.
The Uhaul Investors Club is an investment vehicle offered by Amerco (NASDAQ:UHAL) which is the parent company of Uhaul. In the simplest terms investors are able to set up an account with Uhaul directly and once your funding arrives you are able to make direct investment in a variety of debt issues offered by Uhaul–we show the currently available offerings below. The account can be a standard cash account, or as in our case (wife and I), they can be IRA accounts.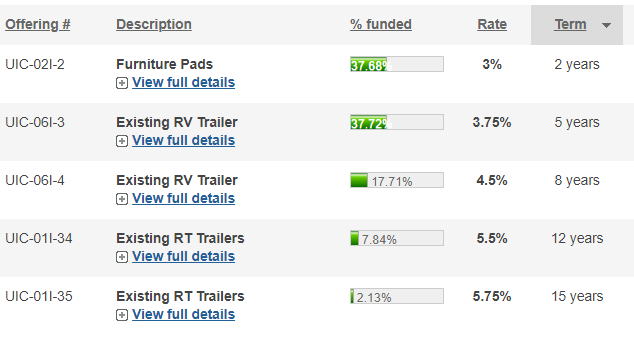 As you can see just like any debt instrument you buy the longer the maturity date the higher the 'coupon'.
Investments must be in $100 increments and $100 is the minimum purchase. An account can be started with almost any initial deposit and with a couple clicks of the mouse you can add or withdraw available cash funds as you desire.
These 'bonds' are secured by the equipment shown above and Amerco files prospectuses for the securities with the SEC, just like any stock or bond offering.
Now these are not typical bonds. A typical bond would have a maturity date at which point you would receive the bond principal. During the time of ownership of the bond you would have received interest each month, quarter or likely semi-annually. The Uhaul bonds pay you quarterly and the payment includes a portion of the principal and a portion is interest–thus at maturity you will have received most of your principal and interest already so you only receive the typical part principal and part interest payment at maturity.
Your quarterly payment looks something like this (an actual payment on 1 investment we have with Uhaul)–

So when you receive your quarterly principal and interest payment, assuming it leaves with you with at least $100 in your account you can go right ahead and reinvest. It is important to realize that the principal can come back quite quickly, in particular on 2 year issues, and to maintain your maximum return you need to reinvest quite quickly.
I started our accounts mid 2018 and funded both accounts with a portion of our annual IRA contributions (which I believe was around $7,000) for the year. We have now started funding the accounts with 2019 contributions and have around $11,000 in the accounts. If one desires they are able to move other IRA money into the account with a transfer. While we have just a tiny amount in the account we plan to continue funding with new IRA money–this is just 1 tiny part of the over all plan.
Like any investment one needs to review the issuer–Amerco, to make sure they are performing as expected without obvious financial problems ahead. Amerco had filed for Chapter 11 way back in 2002–so like every corporation these things can happen and they need to be reviewed. We will let each potential investor decide for themselves what they believe the quality of the parent company is at this time, but we will point out a few basics.
For the 1st 9 months of the last fiscal year (ending 12/31/2018)
–Amerco had $2.1 Billion of marketable securities on hand (corporate bonds and treasury securities).
–Amerco had $1 billion of cash on hand.
–Cash generation (net income plus depreciation) of $770 million generated in the 1st 9 months on revenue of about $3 billion.
–The company pays about $35 million in interest each quarter–$105 million during the 1st 9 months.
The company will be reporting their financials for the last 12 months in the next 10 days or so and we will be reviewing them closely.
I believe there is very little risk in holding their bonds at this time and as long as the general economy remains decent–and likely even in a weakening economy.
The 10-Q for the 1st 9 months can be seen here.
Here is a link to the uhaulinvestorsclub website.
As always we don't recommend investments, but we personally find these securities provide us with some added diversification that we are always looking for in the big scheme of the portfolio.
We can't complete this article without giving a tip of the hat to kaptain lou for pointing this opportunity out for all to see on this site as well as on Seeking Alpha last year.