At any given time we are watching bunches of different markets which we seldom write about because they simply don't have current effects on various income securities that we watch day to day.
Recently we have been watching natural gas prices.  Obviously most readers are aware that the United States has become the globes largest producer of natural gas because of horizontal drilling in the various shale plays.  Because of the huge increase in natural gas the U.S. has become, for the 1st time in 60 years, a net exporter of natural gas.
Just in the last 2 years natural gas exports of LNG (liquified natural gas) has risen by over 400% to the point where the amount of natural gas that the U.S. has in storage has begun to get smaller and smaller.  It is this buffer in storage that allows the U.S. to supply domestic needs during very cold–or very hot weather as the amount of power generated by natural gas power plants  increases (from coal).
Here you can see a chart from the Energy Information Agency which shows that current natural gas inventories are running around 25% to 30% below the 5 year average and now have moved to the lowest level, for this time, in 5 years.  Now is when U.S. natural gas should be injecting (stored) in preparation for winter needs, but we have a new player–LNG and global markets which stand ready to purchase most any amount the U.S. wants to sell.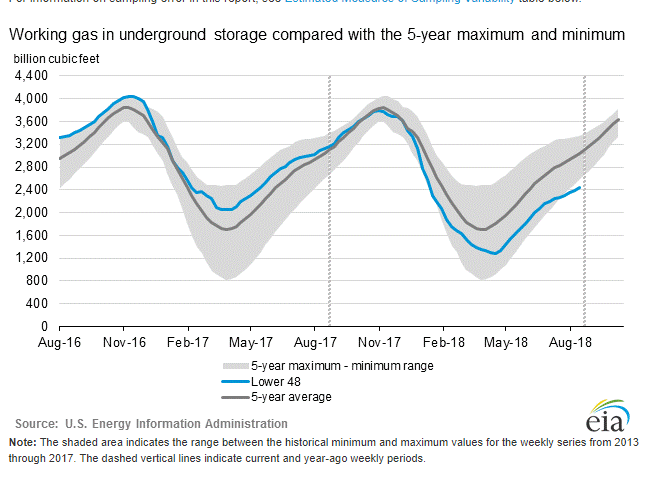 Now it is not our intent to write a big long article on natural gas–but it is our intent to highlight a potential pitfall or maybe opportunity in the various MLPs available to income investors.  We are talking about the pipeline companies, natural gas producers and the LNG shippers (like Dynagas LNG Partners, Teekay LNG Partners or GasLog Partners) which may stand to either benefit from or get hurt by quickly changing markets.
The point of this article is simply to give a 'heads up' for holders or potential holders of securities in the natural gas arena.