We all have a different level of risk we are willing to take to garner some portfolio income and I have tried hard to push myself to buy some riskier assets. I still have plenty of dry powder–which I want to maintain at a healthy level, but I need to see some dividends and income flowing, or at least more–those $200-$500 payments hitting the account help motivate me.
Last week I wrote a bit about Oxford Lane (OXLC) and Eagle Point (ECC) issues I have bought—and folks chimed in with other suggestions.
Earlier this week I bought some of the term preferred shares issued by CLO owner Priority Income Fund (not traded). This collateralized loan obligation owner (organized as a closed end fund) is controlled by the hated (at least by many) business development company Prospect Capital (PSEC).
Priority Income Fund has 6 term preferred issues outstanding. The company became a 'serial' issuer of shares starting in 2018 and continued to sell new issues right through 2/2020. When the pandemic hit the company had registered to sell a another new issue, but it never happened.
Of the 6 issues outstanding only one is currently redeemable and 3 more issues will become redeemable in 2021—all but 1 issue trades under $25/share so they carry little to no call risk.
Below you can see a financial summary for the fund as of 6/30 for the last number of years. Really huge investment income, but pretty high expenses. High payouts to common holders with a slowly decaying net asset value (NAV)–on a per share basis. Generally the company pays out most of their investment income irrespective of unrealized losses.
Just remember with these closed end funds we care about the total asset value in dollars–not per common share. Funds like Priority Income Fund are always selling more common shares and below you can see that while the per share NAV is eroding the total assets continue to rise–at least until this year. The total asset value is what is used to provide our coverage ratio–closed end funds must have at least 200% coverage on the senior securities (i.e. preferred shares).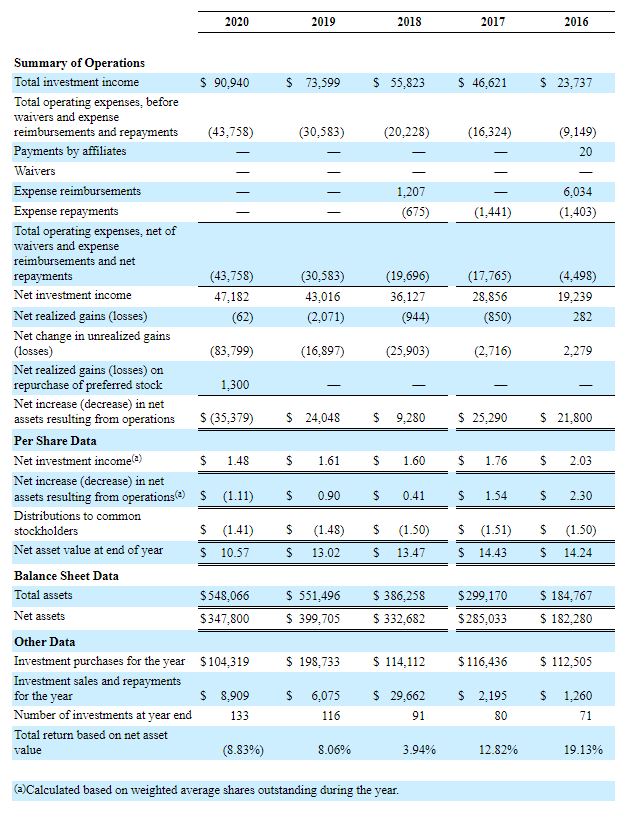 Below are the common shares the fund has sold over the last many years. These funds help keep the leverage ratio up–even if the common per share amount is falling.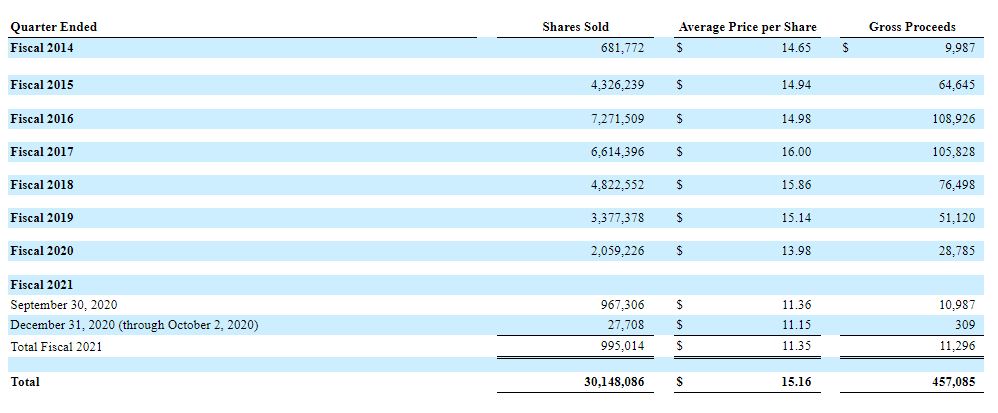 As long as the total assets remain flattish I will feel comfortable holding some of the preferred shares assuming this economy doesn't crash lower again. If the economy softens dramatically I will have to re-evaluate this one.