Well we are heading into the weekend with very strong gains in the $25/share preferred stock and baby bond arena. After a strong December and a flattish January, big jumps in most sectors (not all) of the income issues have propelled us to a week which is up 12 cents in the overall $25/share marketplace with Banks up 21 cents and Investment Grade up 19 cents (through noon CST today).
Of course this means that anything I sold this week is now moving higher–oh well the story of a sellers life in the last few months.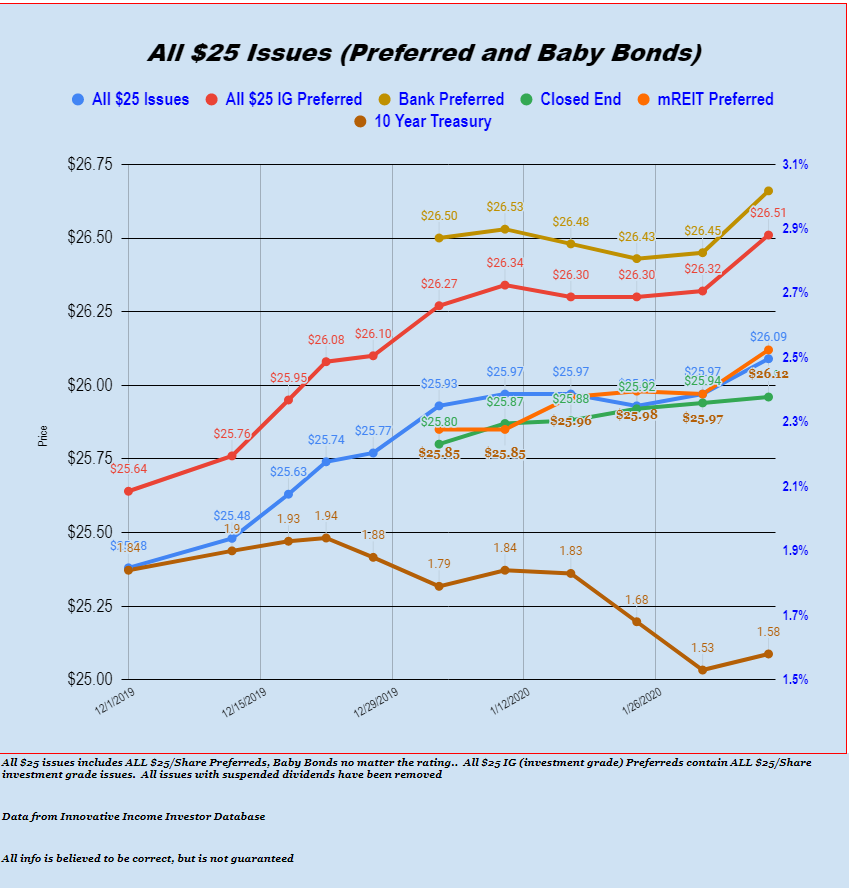 I don't track the shipping preferreds on this chart, but they are off a whopping 45 cents since last Friday. As some have discussed here the GasLog LTD (GLOG) and GasLog Partners (GLOP)issues have lead the way lower. Also there have been some ex-dividend dates playing into the lower prices.
Common stocks are down around 3/4% today in spite stellar employment numbers. Interest rates are in sync with the stock market and are off 6 basis point with the 10 year treasury trading at 1.58% right now.
A number of commentors have mentioned they believe, based on business experience, that the corona virus could turn out to be much worse than is currently reflected in the marketplace. I agree that there could well be something lurking out there which could depress GDP in the months ahead–BUT historically these have been a short term blip in markets–but we just don't know and this is the problem. If we were to see a batch of confirmed cases in the U.S. (say a group of 50 or 100 cases) with social media and potential for 'fake news' there is no predicting where this could take markets–I have my eye on it, but really am not reacting in my investing in any way.
There has been some chatter on the website this week about some of the CLO (collateralized loan obligations) companies. This would include Oxford Lane, Eagle Point Credit, Priority Income, Oxford Square Credit, OFS credit and others. Many of these companies have term preferreds outstanding. I ran across a short article from 3 months ago that would be good to review if you are a newer investor to these securities. It is here.