Here we go–a new week–what does it have in store for us?
As noted by Fabrib we kick the week off with REIT Simon Properties Group (SPG) announcing a buy of Taubman Centers (TCO). TCO has 2 preferred issues outstanding which can be seen here. Both are now callable and trading quite a bit above $25. I haven't looked yet to see what the terms of the deal are yet–and they probably aren't announced yet.
Also tim.moore notes a new issue of B Riley baby bonds is coming with a likely partial call of the 2027 7.50% issue (RILYZ) redemption.
Last week the stock markets had strong gains–party on I guess. The S&P500 opened the week at 3236 and closed the week at 3328–about 3% higher.
The 10 year treasury opened the week at 1.56% and closed the week at 1.56%, although it hit 1.65% mid week. Obviously the blowout employment numbers were outweighed by the corona virus and the slowing of wage growth in employment.
The Fed balance sheet grew by $15 billion last week–continuing a trend of less than expected stimulus. The balance sheet remains at levels equal to the end of December.
Last week we had 1 new income issue sold and that was from CLO holder Oxford Lane Capital (OXLC). The issue is trading on the OTC Grey Market now under ticker OXCPP and last traded at $24.81.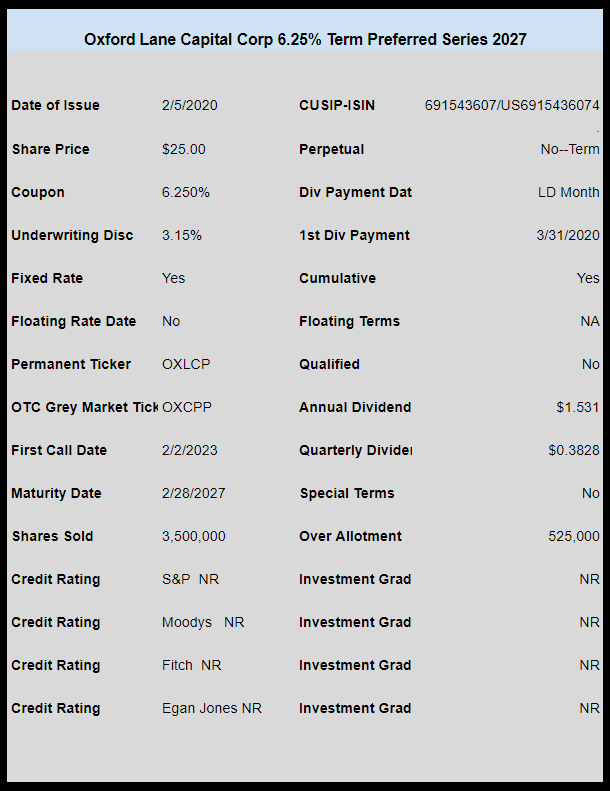 $25/share preferreds and baby bonds remain strong with a weekly overall gain of 8 cents with investment grade preferreds being very strong with a weekly gain of 17 cents with banking preferreds garnering a 15 cent gain. Shipping preferreds were down 46 cents.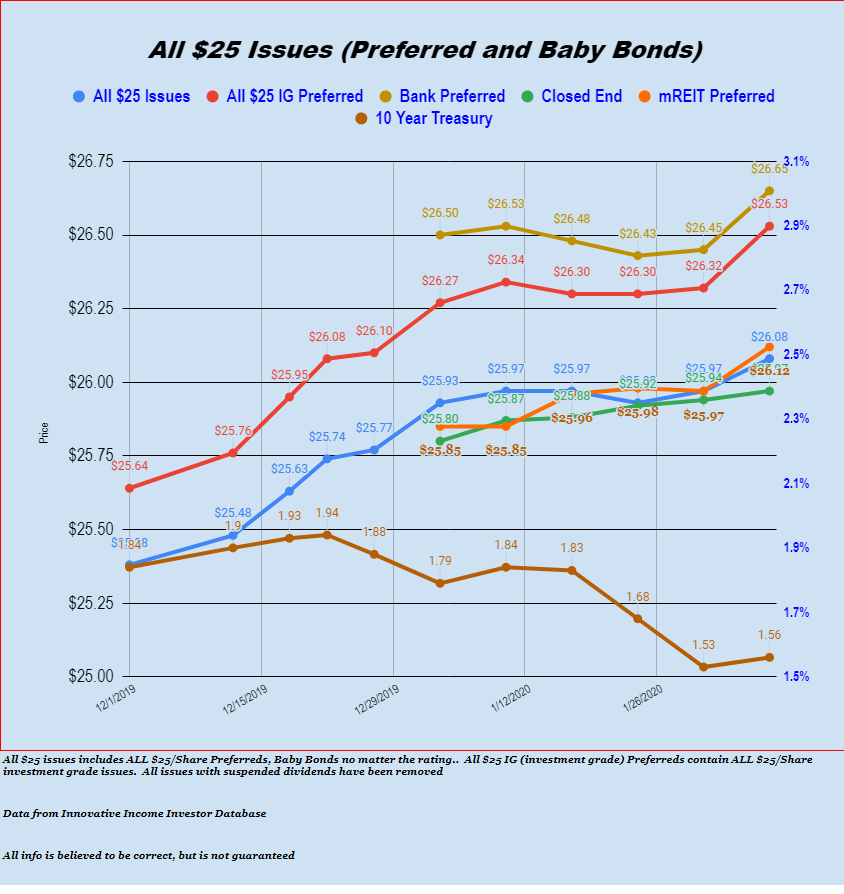 Below is the economic calendar for the coming week.