Well we really did have an exciting week last week, although most income investors likely did ok. Our personal accounts moved very small amounts–up a little, down a little.
The S&P500 traded in a range of 2856 to 2992–a range of 136 points. Certainly one of the larger ranges we have seen this year.
The 10 year treasury traded in a range of 1.51% to 1.75%–closing the week near the lows. It is very seldom that we trade in a range this wide.
The Fed balance sheet grew by $88 billion, which is on top of $13 and $75 billion during the previous 2 weeks. During the 1st large repo operation when the balance sheet grew $75 the stated reason was for end of quarterly tax payments. I wrote the following 2 weeks ago–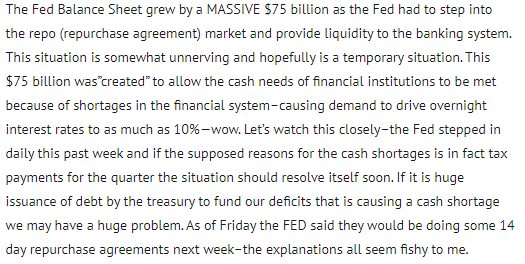 Well one thing I know for sure–the massive growth in the balance sheet last week was mostly NOT from doing repo's. The Fed has stepped in and are now doing some out and out buying of assets–supposedly to 'normalize' the balance sheet. It seems to me that this explanation is still fishy and I still question whether they are now buying assets (mostly treasuries) because the Fed deficit has overwhelmed the global desire to finance the debt. Remember that the Fed can't buy assets directly from the treasury–they have to perform open market operations to buy assets. Time will tell, but we are in a very dangerous time–one slip up and there will be massive issues, globally, with interest rates.
We had a few new income issues announced last week.
Data center REIT Digital Realty (DLR) announced a fixed rate offering with a coupon of 5.2%—a ridiculously low rate for a split investment grade issue. The issue is still trading on the OTC Grey market under ticker DLRTP and last traded at $25.13.
Financial services company B. Riley Financial (RILY) priced a new fixed rate preferred with a coupon of 6.875%. The issue is trading on the OTC Grey market under ticker BRYIL and last traded at $24.85.
Lastly CEF Priority Income Fund (non traded) floated a million shares of a new term preferred with a fixed coupon of 6.375%. We are not aware of any OTC Grey market trading. The issue will trade under permanent ticker PRIF-E when it finally trades. We will continue to watch for grey market trading.