The S&P500 traded in a range of 2976 to 3027, opening the week at 2981 and closing the week at 3025–"party on Garth".
The 10 year treasury traded in a range of 2.01% to 2.08%, closing the week at the high yield of 2.08%.
The Fed Balance Sheet fell by $5 billion last week — the balance sheet stands at $3.8 trillion right now.
The average $25 preferred stock and baby bond is trading at $25.11 right now which is up 6 cents on the week–it just keeps marching higher. We have just 149 issues now trading at $25 or below–compared to 161 last week. Obviously this all goes to show that bargain hunting continues to get more difficult.
We had 1 new income issue announced last week as BDC Newtek Business Services (NASDAQ:NEWT) announced a new 5.75% $25 baby bond – they will call the NEWTZ 7.50% issue, which is a small issue. Holders of the NEWTZ issue got spanked–which they sorely needed to teach them a "call risk" lesson.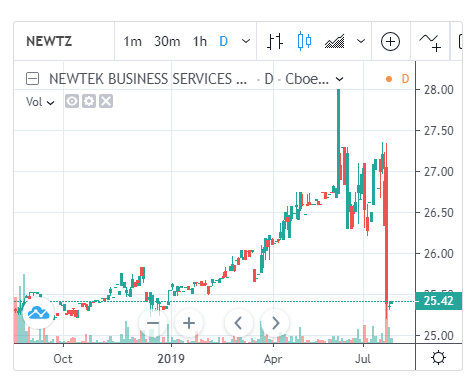 The new issue is to trade under ticker NEWTL, which was also a ticker used previously. It is possible this ticker could change prior to the start of trading. Details can be seen here.