The S&P500 moved in a range of 2973 to 3015 last week before closing Friday at 2977–off by over 1%.
The 10 year treasury moved in a range of 2.035% to 2.14%, but has been the case continually for the last number of months any bump higher in interest rates is followed by a drift back lower and it closed the week at the lows.
The Fed Balance Sheet fell by $7 billion last week after rising a couple billion the week before. There hasn't been too much talk of the continued runoff in the balance sheet, but the chart below clearly shows that there has been no change in pace and direction of the runoff in 2019.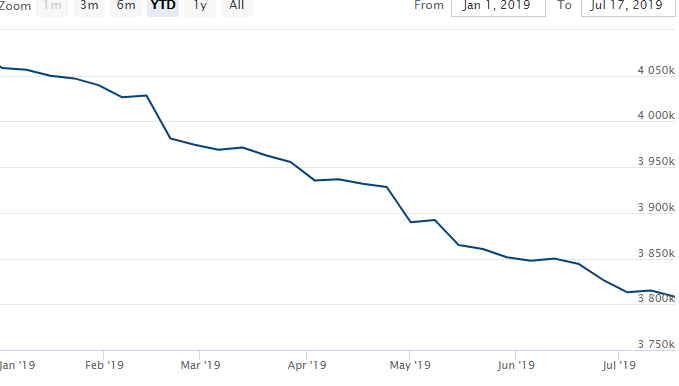 The average $25 preferred and baby bond moved higher in price by 1 penny last week. We now have 161 issues that are trading at $25 or below compared to 170 issues last week. Still heading in the direction that makes investing more and more difficult.
Last week we had just 1 new income issue announced and that is the new 6.20% baby bond from REIT Ready Capital Corp. The issue will trade under ticker RCB when it begins to trade either this week or next. The details on this one can be found here.