Equity futures are way, way up on a Pfizer announcement of a highly effective Covid 10 vaccine. With the S&P500 up by 3-4% you would expect higher interest rates–and we have the 10 year treasury up by 11 basis points–at .93%. If this rally continues for a day or two we may see a few 'bargains' start to appear in the income issues–we'll see.
The S&P500 traded in a range of 3280 to 3510 before closing the week at 3509 a gain of near 7%–once again common shares were sent sky high because of the flood of cash trying to find a home.
The 10 year treasury traded in a range of .76% to a high of .90% and in spite of the huge equity gains the 10 year closed the week at .82%–not exactly a huge vote of confidence in the economy.
The Fed Reserve balance sheet grew by $11 billion last week (after falling by $31 billion last week) extending the sawtooth upward pattern of balance sheet growth–this is destined to grow year after year.
The average $25/share preferred and baby bonds rose by 35 cents last week, a very strong gain following on the loss of 32 cents the week before. Investment grade rose by 15 cents as did banking issues.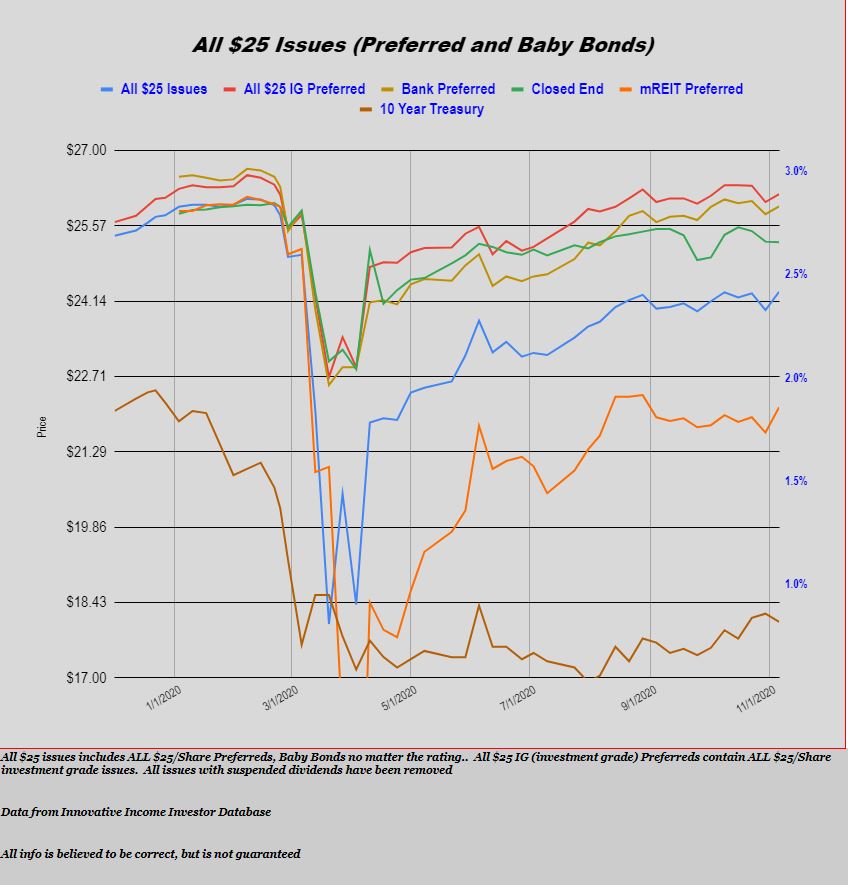 Last week we had no new income issues sold–considering the turmoil of the elections and market movements this is no real surprise.