The S&P500 moved higher again last week as bad news is good news and good news is great news. The index moved in a range of 3285 to 3353 closing right near the high of 3351—the index gained around 2.5%–another week like this and we will have a new record high. With the liquidity in the system and the Fed at the ready to make sure asset prices move higher there is no doubt in my mind we will see record highs soon.
The 10 year treasury traded in a range of .51% (a record low) and .57% and closed at .56%.
The 5 year treasury (the base rate for the newer Fixed-Rate Reset issues) closed last week at .23%.
The Federal Reserve Balance Sheet fell by $4 billion last week–the second time in a row assets have fallen–assets fell by $15 billion last week.
Finally the average $25/share preferred and baby bond slowed their weekly increase in pricing. The average share rose 9 cents last week, with just lodging (plus 43 cents) and mREIT preferreds (plus 26 cents) contributing much to the small gain. Investment grade rose a penny, banks were off 5 cents and utilities showed a little softness being off 2 cents.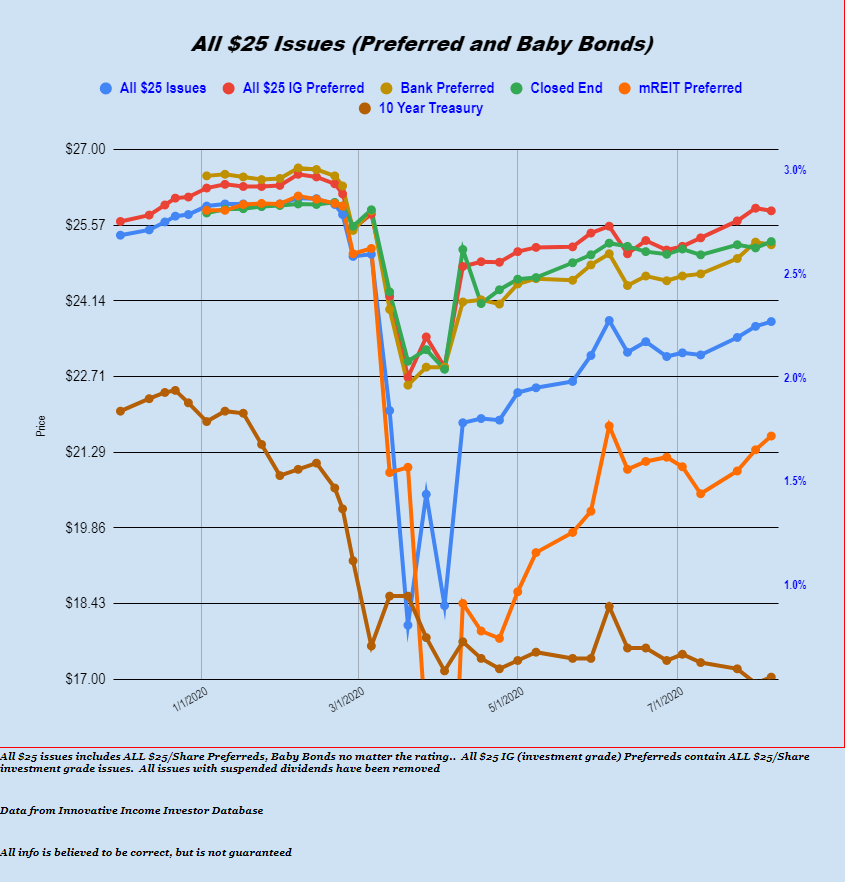 Last week we had just 1 new income issue announced as West Virginia banker WesBanco (WSBC) announced a new fixed rate issue.
The issue is trading under OTC temporary ticker WSBKL right now and opened strong when trading commenced last week with the low around $25.40 with a high on the week at $26.17, before closing at $25.98. Disclosure–I bought a 1/2 position at $25.50.