Well we are in a new month and I really look forward to seeing what kind of government silliness unfolds this week. Friday we have the employment report–the big news for the week–will we see some improvement?? Markets say we will see nice improvement from last month–BUT weekly new claims say otherwise. Forecasts are for 1.36 million new jobs added–after 4.8 million added in June. Unemployment is forecast to fall to 10.7% from 11.1% the month before, but some forecast are much more negative instead calling for a stall out in employment. We shall see–and will it even matter to markets that are floating continually on liquidity.
Last week the S&P500 traded in a range 3214 to 3272 before closing the week near the high at 3271–up almost 2% on the week.
The 10 year treasury traded in a range of .528% to a high of .609% closing the week near the low at .536%.
Last week the Federal Reserve balance sheet fell by $15 billion. It appears that the huge U.S. savings rate (near 20% now as liquidity floods the system) is bailing out the Fed – for now. The current savings rate reminds me of the Japanese consumer savings rate which has provided ready funds for buying their debt for years.
The average $25/share preferred stock and baby bond last week rose by 21 cents–just shy of 1%. mREITs were strong and were up about 1%. Investment grade issues were up 1% as were the shipping issues. The losing segment was lodging REITS off about 1/2% as the Ashford Hospitality (AHT) issues got hammered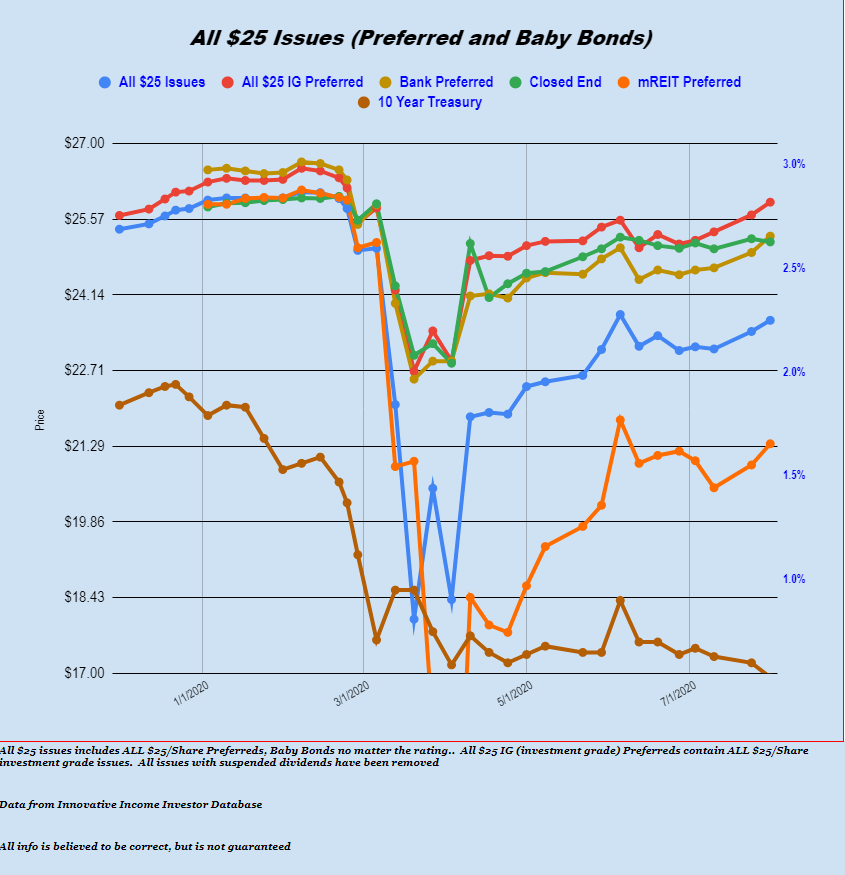 Last week we had 1 new issue come to market as banker Truist Financial priced a new issue of non-cumulative preferred at a coupon of 4.75%.
The issue which is trading under OTC temporary ticker TSTFL closed last week at $25.20.