Another week is upon us and another bit of mystery as to how markets will trade presents itself.
We have some potentially ominous developments, which we all knew were coming, at hand and no one—no one, knows what 20 million folks having their paychecks cut by $600/week will do to the economy and the equity markets. Additionally eviction notices are starting to be issued to those who have not paid rent for months and soon foreclosures will begin to occur on some of the homeowners who are now part of the 5 million or so mortgages now in forbearance.
Of course we all know that congress will create new programs for aid to these folks, but I am guessing with somewhat less generous terms–just the same ramp up the printing press once again. The time between now and when a new stimulus is hammered out could be rocky, but on the other hand could it be that the ostriches will simply bury their collective heads in the sand and ignore the obvious?
Last week the S&P500 opened the week at 3224 and closed it out on Friday at 3215–for the tiniest of losses. The index is just 5-6% off a 52 week high.
The 10 year treasury yield fell a bit last week–opening the week at .61% and closing the week at .59%
Last week there was a small amount of growth in Federal Reserve balance sheet as assets grew by $6 billion. The week before the balance sheet grew by $38 billion as QE started to ramp back up. This after the balance sheet fell by $248 billion the previous 6 weeks as longer dated repurchase agreements were closed out.
Last week the average $25 preferred stock and baby bond rose in price by 20 cents. Utility issues remain strong rising by 25 cents–banks by 18 cents and investment grade by 20 cents. The only losing sector was the lodging sector (not in the chart below) which was off by 19 cents.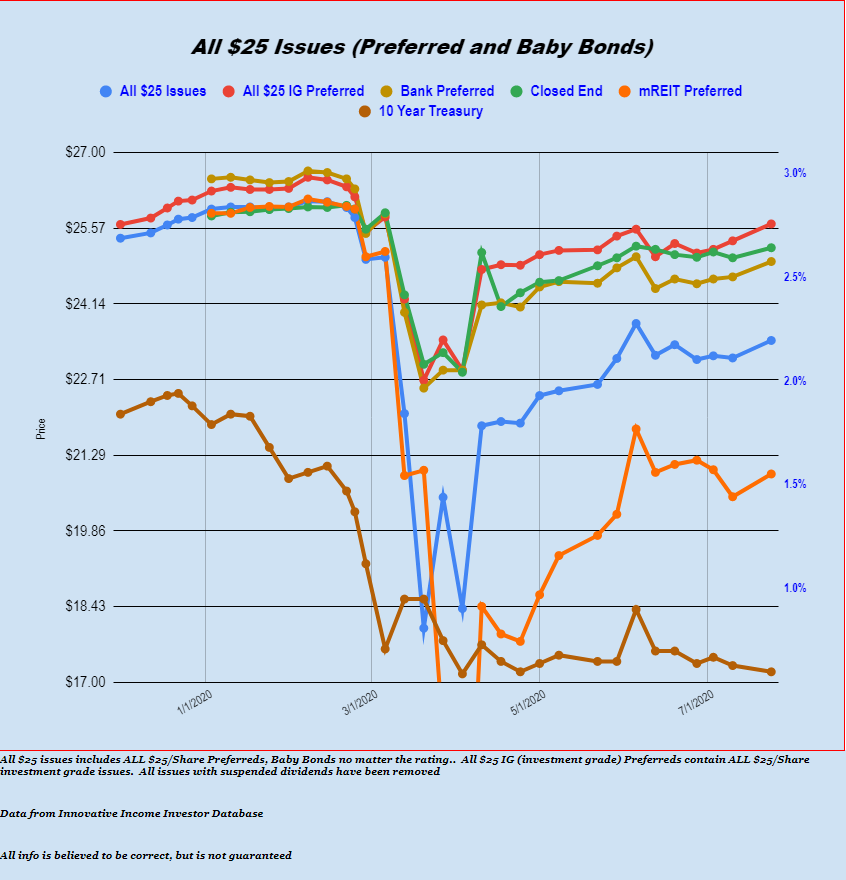 We had one new preferred issue come to market last week as junky Nexpoint Real Estate Finance (NREF) brought a 8.50% issue to market. The shares were priced at below liquidation preference at $24/share.
Shares are now trading on the OTC Grey market under temporary ticker NREFP. After trading as low as $22.92 shares closed at $23.05 on Friday.