Last week was a loser week for the S&P500 as it traded with a low of 3004 and a high of 3155 before closing the week near the low at 3009–down about 3% on the week. With the SP500 around 3000 the index is off 7% year to date and about 12% off of the 52 week high.
The 10 year treasury traded in a range of .63% to .73% and closed the week at around .64%.
3 month Libor (as the reset variable for most fixed-to-floating preferreds) closed last week at .37%. As fixed-to-floating rate preferreds move into their floating rate period this is an important number.
The Fed balance sheet FELL by $12 billion last week. The balance sheet has fallen by $86 billion in the last 2 weeks. The REPO market has been very quiet the last few weeks–obviously there is plenty of liquidity in the system, at least temporarily.
The average$25/share preferred stock and baby bond fell by 28 cents (around 1%) last week. Every sector fell, with lodging REIT preferreds falling hardest with the average share off around 6%.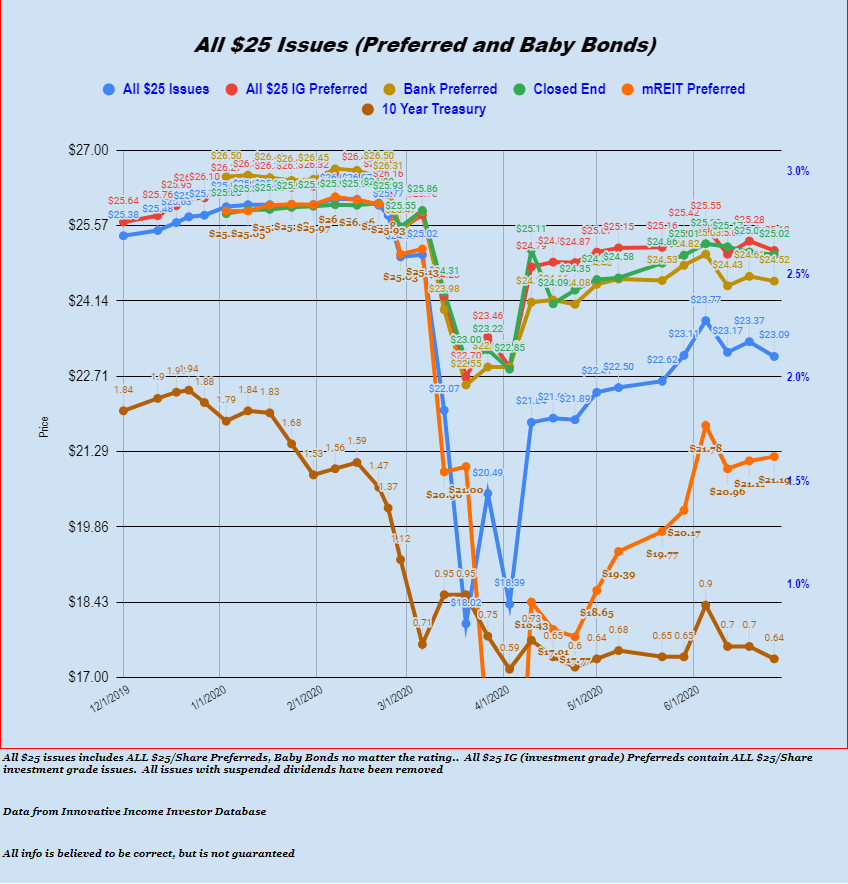 Last week was a quiet week for new preferreds and baby bonds. There we no new issues.
Brookfield Infrastructure Partners (BIP) announced a new issue of preferred units–but as of this moment we are not aware of any pricing of the shares.
We did see the start of trading of the WESCO International 10.625% preferred (WCC-A). This is a fixed-rate-reset with a reset spread of 10325%. This is a special situation and investors should make sure to do their due diligence.