The S&P500 traded in a range of 2727 to 2842 last week before closing the week at 2837–which was about 1.3% lower than the close the previous Friday.
The 10 year treasury closed last week at .60% which was below the close of .65% the previous week.
The Fed balance sheet grew by $210 billion last week–with the balance sheet now holding $6.573 trillion is assets–and amount which will never lowered significantly–not in my lifetime anyway.
Last week–believe it or not–we had very little in average $25/share baby bonds and preferred stocks.
The average $25 issue was 3 cents lower last week, bank preferreds were 8 cents lower, investment grade issues were 1 cent lower–the only group that we track which had a gain was the closed end fund preferreds which were 26 cents higher. mREIT preferreds are at $17.77 amd Lodging REIT preferreds are at $11.71–no doubt that some time in the future there will still be large gains in these sectors–wish we knew which companies ended up being 'winners' and which 'losers'.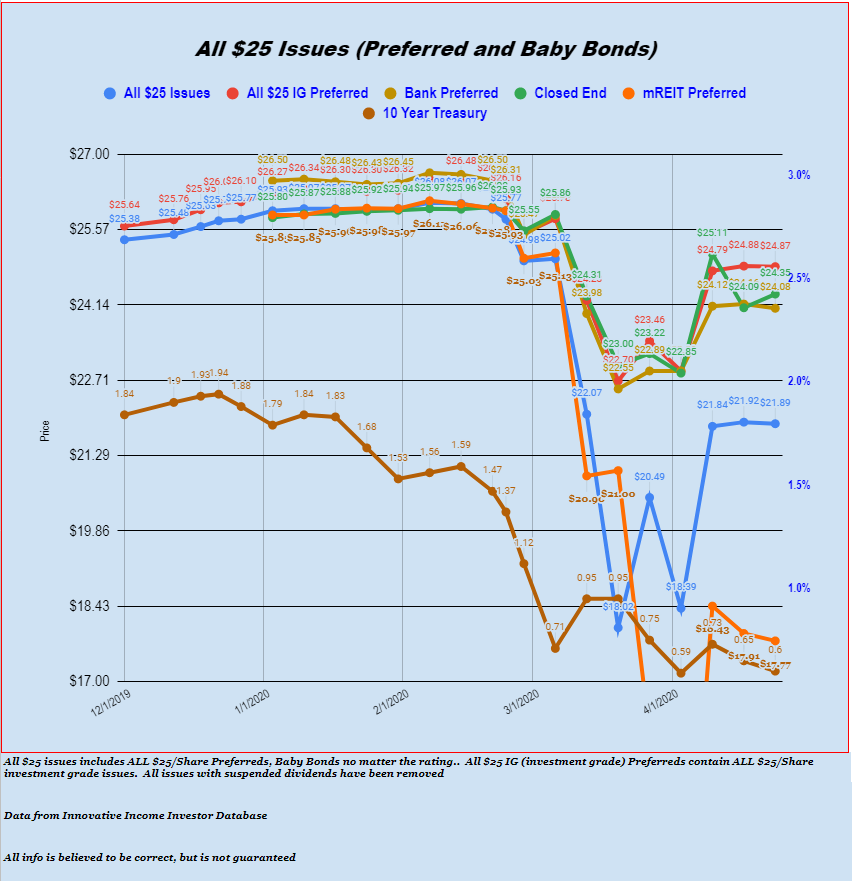 So we enter the week with the DJIA futures up a couple of hundred points–whether it holds or not is anyone's guess.
I see General Motors suspended their dividend this morning as well as any stock buy backs–this is a sign of things to come and no one will be too surprised by these moves.