Well here we go into what no doubt will be a wild week.
Last week the SP500 traded in a range of 2175 to 2629–an incredible 20% range–before closing at 2489. This was a huge gain on the week and is highly likely to be a rally in a bear market.
The 10 year treasury, which for the time being has become fairly meaningless, traded in a range of .72% to .90% before closing the week at .75%.
The average $25/share preferred stock and baby bond closed the week at $20.40/share which was a gain of about 10% from the week before which was around $18/share. mREITs are still the laggards at $16.01–even below shippers at $16.76. We urge caution when buying the mREIT preferreds–after the bounce back in preferred prices last week there is potential for large losses if mREITs suspend dividends (those that have not already done so)–a 50% hair cut would like occur. Investors should 'leg in' to any mREIT preferred purchases for another week or so.
Utility preferreds are at an average price of $24.12 which represents big gains for holders–we personally experienced these gains. Additionally CEF preferreds closed higher and now are at $23.22.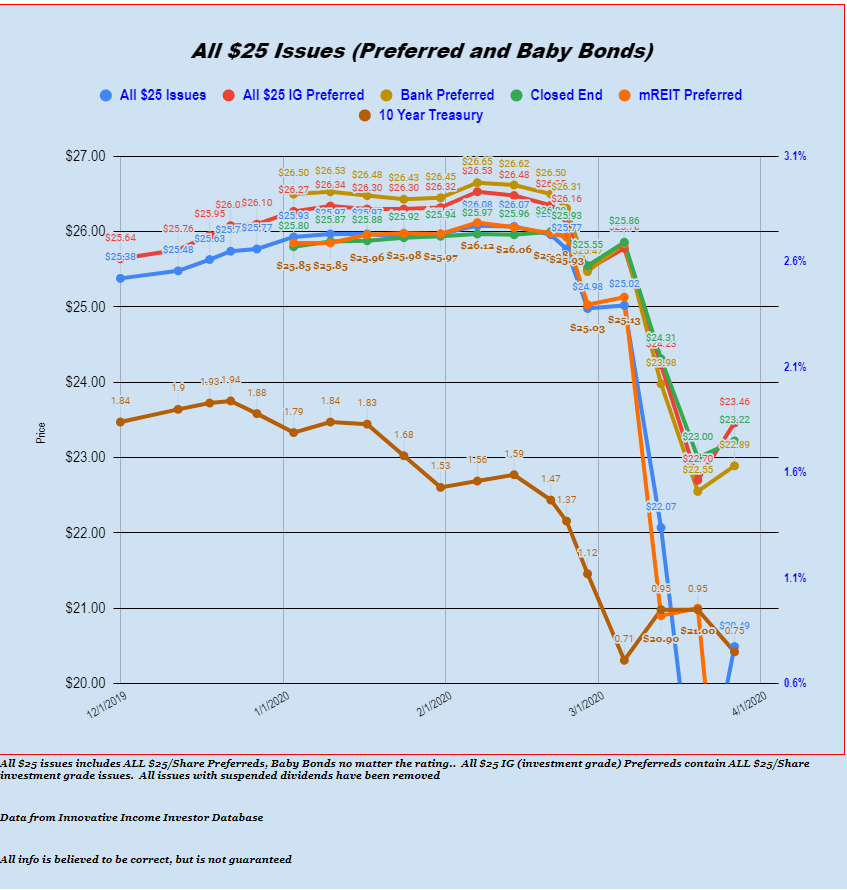 A CASE STUDY ON CEFs
Investors should look at both Kayne Anderson MLP and some Tortoise closed end funds for what is total destruction. Many of us feel fortunate that what was a 'near cash' type holding in Kayne Anderson MLP 3.50% term preferred (KYN-F) was redeemed a month or so ago. KYN traded as low at $1/share–down from a 52 week high of $16.49. Tortoise Midstream (NTG), which used to have some very nice term preferreds outstanding, closed last week at 99 cents/share–down from a 52 week high of $14.65.
Both of these closed end funds had broken leverage limits (they have debt and non traded preferred for leverage now), but it looks like while the common holders have been virtually vaporized, the senior security holders remain covered.
In the case of a very specialized CEF like the 2 above, which hold MLPs, they are self destructing when prices fall this fast. The company has to sell securities to meet leverage limits, which causes prices to fall further, which requires more selling.
It actually looks like the companies are now in compliance with leverage tests as they did massive selling. Here is an earlier statement from Kayne Anderson on leverage and how they handled it.