I am suspending the more normal Monday Morning Kickoff and just touching on more recent news for the day and week ahead.
The average $25 preferred stock and baby bond closed last week at $18.02 which is $1.52 higher than where it was on 3/18 (last Wednesday).
The Fed Balance Sheet has gone parabolic and was up over $300 billion last week. Of course at this point we know it is going massively higher.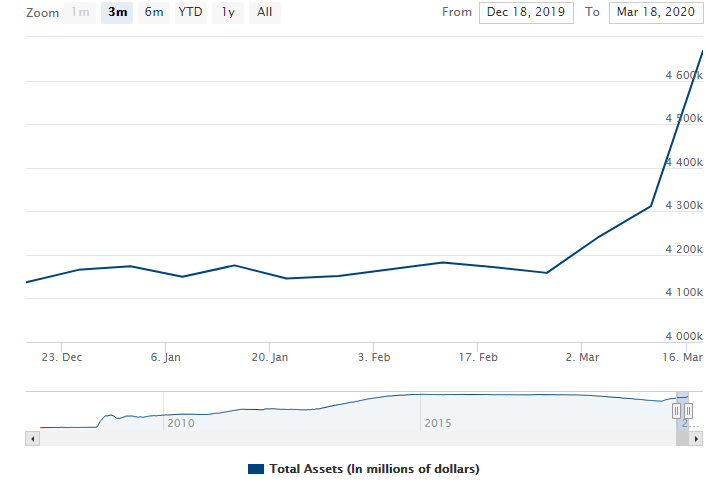 Just 30 minutes ago the Fed announced quantatative easing of giant magnitude, buying muni bonds, commercial real estate mortgages and certain investment grade corporate bonds. The Fed took off any limits to the amount they may buy–ramp up those printing presses!!!
With the announcement from the Fed equity futures bounced nicely and right now are up about 1%–much better than overnight when futures were off 5%. I am highly suspect of any bounce as the uncertainty and unknowns are just too high–but just the same a bounce would be good (in spite of the lose I will take on my short position).
I expect to see a steady stream of companies everywhere either slashing or suspending their dividends–liquidity is king. Those companies that suspend now are likely to be around next year—those playing hero with their dividend are fools. As some have noted in comments some companies are going to pay dividends/distributions with stock issuance–seems like a reasonable alternative to cash.
So where do we go and what do we do?
I really doubt any buying should be done in here–there will probably be a number of better opportunities in the future–there are lots of potential bargains out there–but they may be better by the end of the week—no one really knows what 10-15% unemployment looks like—nor do they know what -15% GDP (or some such number) looks like.
Stay safe–lots of dry powder (and for some 100% dry powder). We are around 50% cash—and hope to remain there, but this can change rapidly, so we will see.