We have entered another Goldilocks period during the last week or so where interest rates trade in a narrow ranges while stocks march higher on almost a daily basis and common stocks are now "even" on the year (not counting dividends).
One potential fly in the economic ointment is the continued rise in oil prices. While we certainly notice prices going up at the pump, the current level of around $2.75 in Minnesota is not higher enough to do any real harm to the economy. We think it will take at least $3 before any real attention is given to the pricing and beyond that it will take another 50 cents to do real economic damage and contribute heavily to inflation as oil and natural gas prices are components of almost every consumer product sold in this country.
This week we have 7 Fed president speeches–these always have a potential to move markets if one of the presidents says something that is way out of mainstream thought. On Tuesday Retail Sales will be released and they are forecast to have risen .3% month over month–only if sales are outside a wide range of up .1% to up .5% will this number have any consequence for markets. Wednesday Housing Starts and the Housing Market Index are released as well as industrial production – none of these numbers of meaningful to the marketplace in a large manner as they are highly unlikely to be outside a wide range of expectations.  Thursday, of course, we have jobless claims, which have become unimportant on a week to week basis, but we also have Leading Indicators which will have a minor potential to move interest rates—too hot and rates break above 3% and too cold the 10 year treasury stays locked in the 2.90's.
Outside of short term T-Bills being sold (and they are continually sold) we don't have much for Treasury auctions this week.  On Thursday the auctions for the next week or so will be announced and this makes for an interesting read.  The current forecast is for lighter than expected sales of longer term notes and bonds as tax receipts have been quite high.  This coupled with the modest run-off of the balance sheet may mean only modest pressure on interest rates from the Treasury and the Fed.
Last week saw NO Fed balance sheet run off–the Fed remains a bit behind the curve on the run-off which is supposed to be running at $30/billion a month–until next month when it will flip to $40/billion per month.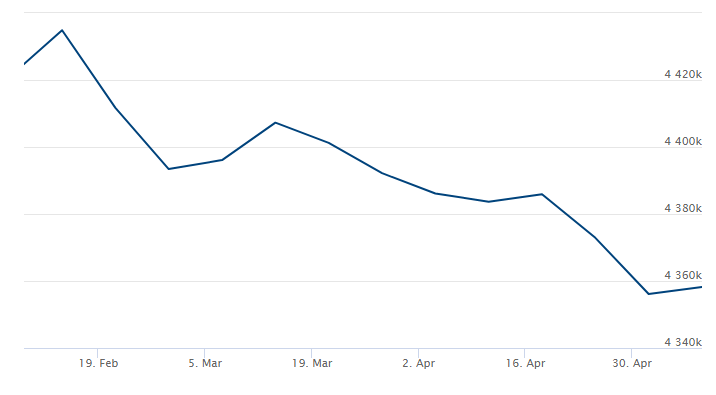 The average preferred stocks and baby bond moved higher last week by 4 cents to end the week at $24.86  and we have 192 issues trading below $25 which is quite a change from 210 last week.  As we know, prices on these securities react to higher interest rates and then over time, assuming interest rates flatten, prices start to creep higher–the normal trend in pricing continues.
We had 2 new issues begin to trade last week.  Both are issues from MLPs.  DCP Midstream sold a 7.875% fixed-to-floating preferred issue which is trading OTC Grey market at about $24.70.
Oaktree Capital sold a fixed rate 6.625% preferred unit offering which is also trading OTC Grey market and is soft around $24.65.  This offering is investment grade.