Even with equities strong today after the speech from China's president last night which indicated some softening of their trade stance, and a Producer Price Index a bit 'hotter' than anticipated the 10 year treasury has traded in a tight range today and the yield is up just 1 basis point.

We had a 3 year note auction today with a sizable offering of $30 billion and the results came off soft-as has been true for the last couple of weeks.  Below is a snippet from Bloomberg.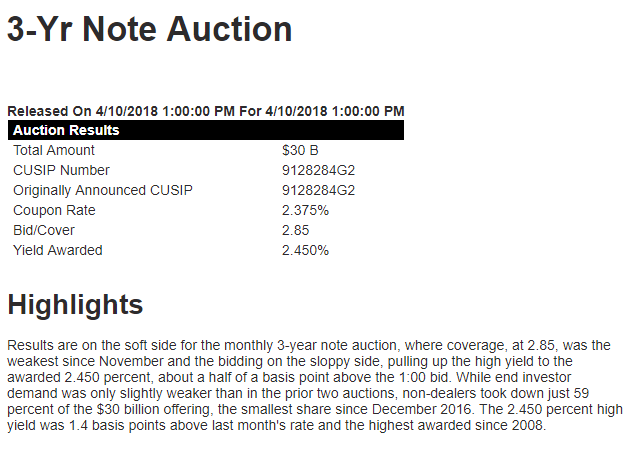 Tomorrow we have a 10 year auction and on Thursday we have a 30 year auction–this is where the rubber meets the road (or doesn't) and we will be watching these a bit closer.
Preferreds and baby bonds are actually up a couple pennies today (on the average $25 share)–no meaning to this – mostly just normal fluctuations.
1 item we do note is the the GDL Fund $50 puttable preferred (GDL-C) has traded higher the last couple of days. This is a bit crazy for a preferred with a current coupon of 4%. We will write more on this issue soon (disclosure–we own 300 shares of this issue personally).  We should note that this super safe issue was highlighted most recently by Gridbird.


So now we will see what happens through the balance of the trading day–anything can happen.