For once the 10 year treasury yield is up by 4 basis points which is in "sync" with a moderately higher stock market. Guess we haven't haven't enough presidential tweets today to rile the markets (but the day isn't over) sending investors into the safe haven bond market.
The DJIA is up 267 points and the 10 year treasury is up 4 basis points to being firmly back into the 2.80's% at 2.83%.
Preferreds and baby bonds are off 3 cents on a $25 share. Again right in sync with the bond market.
The 30 year bond auction had decent demand from investors, but a bit more tepid demand from dealers.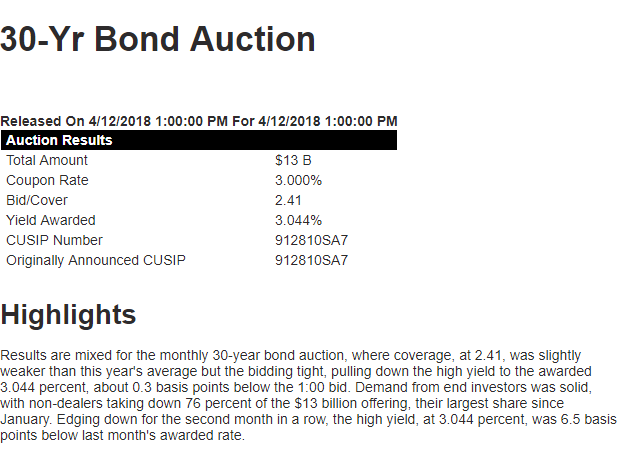 Tomorrow we have 3 Fed officials talking, but these talks seem to have lost some of there importance lately. We also have the JOLTS report–Job Openings and Labor Turnover report. This gives us a bit of a window on the pressures in the job market–how many jobs are open–meaning do workers have mobility to move to preferred jobs.
Beyond these items we likely slide into the weekend without fireworks–although if POTUS launches a Syrian attack we could see a flight to safety in bonds.