With about 65% of baby bonds and preferreds being down today there is no doubt that investors in income issues are taking a bit of pain today.
It is always disappointing to have a losing month–but I am focusing on the improved current yields on some issues that I would like to own for the long haul–quality issues (or mid level issues that are technically junk, but decent junk). Think about all the 5% coupon issues that none of us wanted to buy—honestly they are still too high, but approaching more tolerable levels.
Many of these low coupons issues are way down from the end of December. Here is a 4.70% coupon issue (PSA-J) from Public Storage (PSA)–it touched near 28 in December and is now down $2.50 from those levels.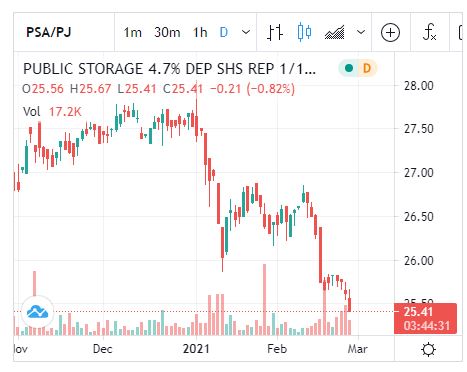 The only question is how high will rates go? Of course no one knows the answer to this question—so I always suggest that if one wants a new position during rising rates that you 'leg in' to a position. If you want 500 shares buy them 100 shares at a time–with no commission costs to speak of there is no harm in multiple transactions.