The last 60 days has brought the 10 year treasury from a low of around 1.45% back in late August to a recent level of about 1.84%.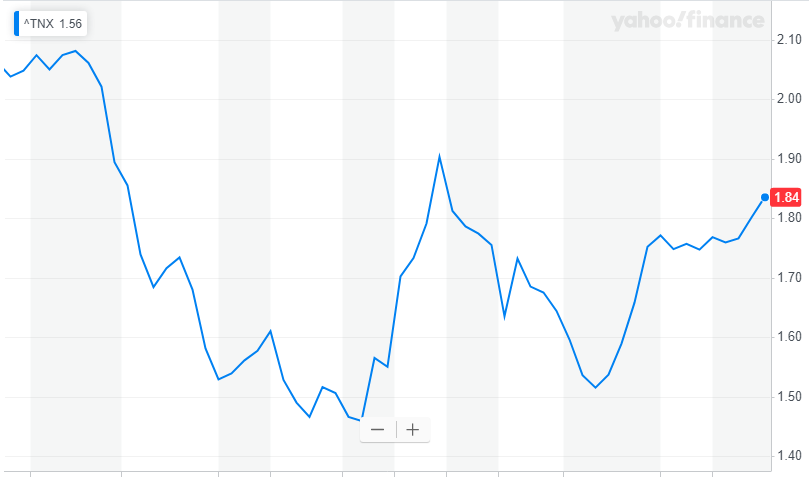 I know readers have been watching this climb from some of the comments made on the site–and certainly these climbing rates have made everyone kind of leery of purchasing much in the way of recent new issues that came to market at really low coupons–i.e. 4.875% to 5% and it looks to me like folks should use a bit a caution right here.
The perpetual preferred issued by 4.875% PS Business Parks (PSB) last week, which continues to trade on the OTC Grey market under ticker PSPBZ, came out of the chute pretty hot trading up to $25.20 on day one–but now is struggling to get back above $25.00 closing today at $24.96.
The new junk rated 5% preferred from Citizens Financial Group (CFG) has traded as high as $25.20, but closed today at $24.99 on the 1st day of trading on the NYSE.
Personally we have noted some of our investment grade holdings have dropped some today. The Allianzgi Convertible and Income Fund II (NCZ-A) 5.50% preferred was off 22 cents and the Allianzgi Convertible and Income Fund (NCV-A) 5.625% was off 11 cents. On the other hand these issues were kind of overheated a bit anyway and a bit of a sell off is not a surprise–even though I hate to see RED on the brokerage statement–this year has been a bit of a gravy train for gains so I guess we will have to work harder to make our 7% next year.