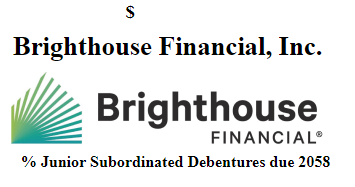 Large life insurance and annuity company Brighthouse Financial (NYSE:BHF) has announced that they will be sell a new baby bond issue with a maturity date in 2058.
The new subordinated debentures will trade under the permanent ticker symbol of BHFAL.  There will be no trading on the OTC grey market prior to permanent market trading.
The issue will have an early redemption available to the company starting 9/15/2023.
We note that this issue does give the company the ability to defer interest payments for 1 or more consecutive interest periods that do not exceed five years.  Of course this term does show up from time to time in baby bonds–normally in utility issues, and certainly may be unacceptable to many investors.
The issue has not yet been priced.
The preliminary prospectus can be found here.