Since the markets are closed today we thought we would post a couple of website statistics.
Below is a chart of the type of device used to access the website.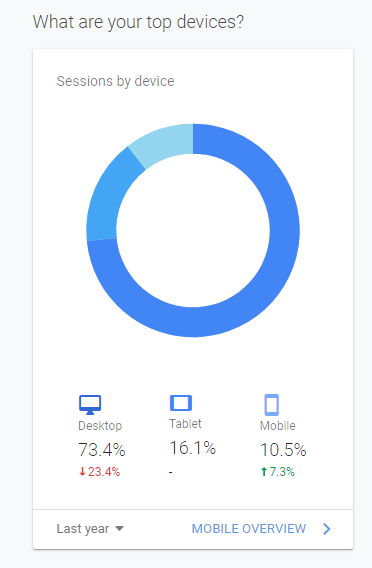 As you can see for last year over 73% of visits to the website were made on a desktop computer. This isn't surprising to me because for the 13 years that I have been publishing websites like this one the lions share of traffic has come from desktops–although it has slowly been falling over that time.
I think that obviously the demographics of the website visitor to this site skews to the above 50 crowd-we are the ones maybe at home accessing the site. The youngsters are at work or simply have no interest in income securities because they think (probably wrongly) that they can beat our performance with common stocks.
The other "fun fact" to share today is simply — which is the most popular page on the website (other than the homepage)?
It is the "Reader Initiated Alerts" page. This is kind of a surprise to me–I didn't realize it was so popular with 1000's of visitors every week. The page is here. Once I noticed so much good info from smart folks I set it up on one of my monitors to be on "fulltime". Readers can usually find info on new issues etc., faster than I can read my RSS feeds and get the alert posted. Plus folks post info on some oddball issues that may be of interest to many.