Federal Agricultural Mortgage Corp (AGM) has priced their previously announced new non-cumulative preferred.
The issue will carry a coupon of 5.25% and will be non-cumulative, but qualified.
The company also announced a call (although no official notice of call has yet been issued) of the 5.875% series a issues (AGM-A) which has been redeemable since 2018.
Holders of the AGM-A issue are sleeping a bit as shares closed at $25.80 today–with 30 days notice of redemption holders will likely take about a 50-55 cent loss. My guess is the lack of information has left most holders in the dark.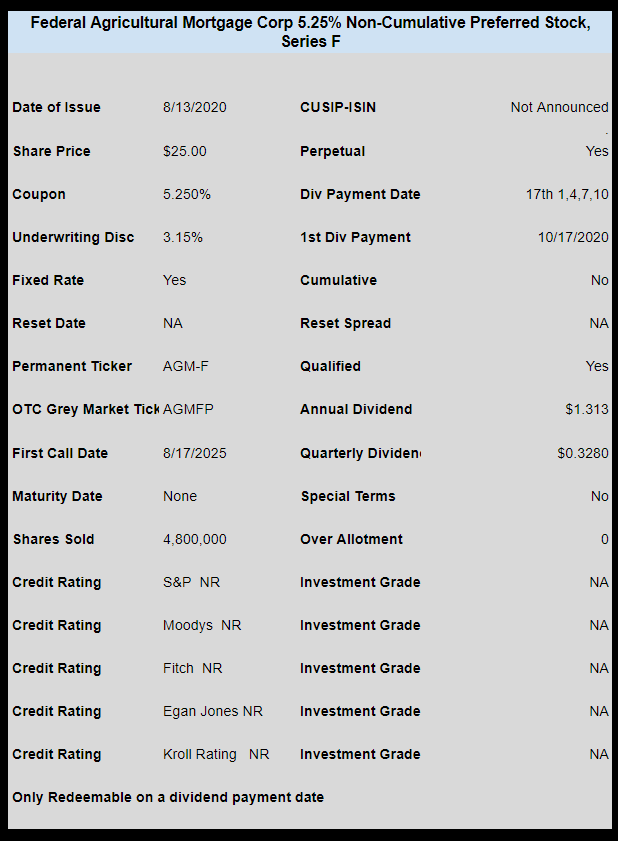 The company announcement of the pricing can be found here.
There will be a SEC filing soon on the issue, but in the meantime the issue will begin trading immediately.
EarlyBird had the details on this issue at 1:22pm this afternoon in Reader Alerts. We always wait for published details before posting our announcement–watching the Reader Alerts page is always most timely.