CLO (collateralized loan obligation) holder Eagle Point Credit Corporation (ECC) has released their monthly investment updated.
It is interesting that the price level of the common shares trades at a 45% premium to net asset value. ECC is trading around $14.40 while the net asset value is just above $10/share. Folks are obvious enamored by the 16% current yield. Of course if you held the common for a year or two you have a sizable negative total return–shares were at $21 2 years ago.
Of course we really don't care too much about the commons shares–I don't own them and never have owned any common shares.
We are interested in 2 term preferred that are outstanding as well as 2 baby bonds. The term preferreds have coupons of 7.75%, while the baby bonds have coupons of 6.6875% and 6.75%. All of these issues trade well with pricing between $25.70 and $26.50.
The outstanding issues can be seen here.
We are most interested–as an investor–or potential investor, 1st off in the asset coverage ratio–they must maintain a 200% or more asset coverage on their senior securities (debt and preferreds)–I currently calculate the ratio around 270%.
On the other hand we do care about the net asset value of the common shares–poor financials, over time can bleed into the baby bonds and preferred shares. The company showed a large unrealized gain of $38 million on holdings for the 6 months ending 6/30/2019. A year ago they showed a huge unrealized loss of $91 million. Of course virtually all of the assets are Level 3 (value can't be directly observed)–the values are calculated by a 3rd party financial model. So you can expect plenty of volatility in net asset values.
ECC is a holder of primarily equity tranches of CLOs. The equity tranche represents almost 91% of the companies holdings. Potential investors always need to remember that the equity tranche represents the highest risk of the CLO.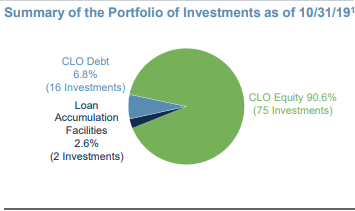 I believe that as long as the economy is relatively strong (not in recession), the term preferreds and baby bonds present a risk/reward that might work for many folks. I have held a position in the past (term preferred and baby bonds) – and may again, but do not hold any at this moment.
The monthly update can be seen here.