NOTE THAT THIS IS MY TAKE AND LOGIC ON PRIORITY INCOME FUND AND THEIR TERM PREFERRED SHARES–NOT A RECOMMENDATION FOR ANYONE SINCE WE DON'T EVER MAKE RECOMMENDATIONS.
I wanted to spend just a little time doing a bit of a drill down on the Priority Income Fund, which is an untraded closed end fund (CEF).
Unlisted closed end funds have been around since 1992 so there is really nothing unusual being unlisted. Often we don't hear of these funds simply because unless the CEF is selling preferred stock or baby bonds they aren't on our radar screen. With the Priority Income Fund if they were not selling term preferreds I would have never heard of them. But in general these funds exist in order to have access to investments which are not very liquid. Additionally they have gain access to institutional type investment opportunities. All in all the securities held may well be very illiquid and may be very high yield.
NOTE that there WAS 1 other untraded CEF out there with a term preferred outstanding and that is RiverNorth Marketplace which has a 5.875% term preferred outstanding which you can see here. The company started trading their common shares publicly on 6/12/2019.
Since the CEF is untraded companies almost always offer some way to gain liquidity by the investors. In the case of the Priority Income Fund there is a quarterly "tender offer". Priority limits the percentage of the total shares that are purchased in any given year to 20%. So investors in these funds do not have the instant ability to gain access to cash.
Of course as one might expect there many details to these issues that we can't cover here, but for those with 3-4 hours to spare you can read all of those details right here in the companies supplements to the prospectus.
The bottom line is the CEF operates much like Eagle Point Credit (ECC) or Oxford Lane (OXLC), both of which are closed end funds also. The obvious difference is that both Eagle Point and Oxford Lane are publicly traded. Whether one fund is better than the other is certainly something that can be debated, but they all hold CLOs (collateralized loan obligations) which are somewhat of a 'black box' in that they hold level 3 securities (value can not be directly observed).
So as a preferred shareholder what do I care about?
(1) I care that the management are honest folks. (2) I care that the companies net asset value (NAV) is not moving sharply lower fast indicating poor management and (3) I care that my shares have a reasonably strong 'coverage ratio' (remember that by law they must have at least a 200% coverage ratio).
So my most important factor–that management is honest–is simply an unknown. How do we know? The only thing I can say about this is that longevity goes a long way toward lending credence to the company. For Priority Income they have been around since 2013–while not a long time, certainly 6-7 years is better than 2 quarters ago.
The 2nd factor–NAV is not moving quickly lower indicating poor management–is something we can put our finger on. Here is a chart showing the data.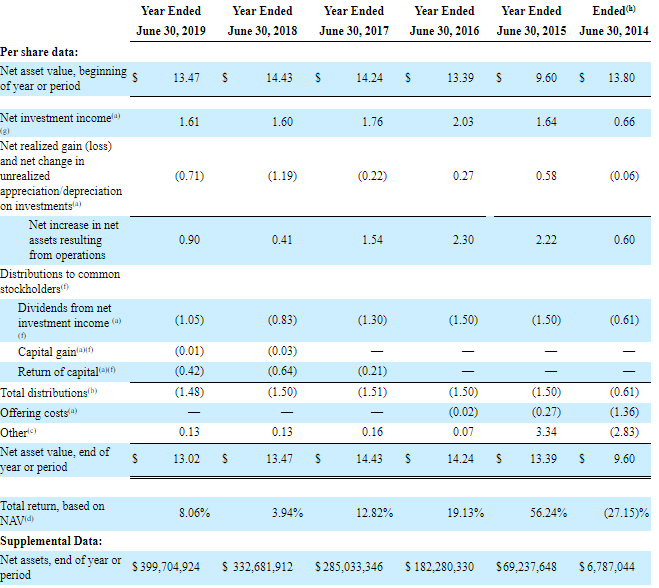 I can see from this chart that the last couple of years haven't been that great–but I am buying preferred stocks so I don't care so much–I care that the performance has been reasonable–thats all–just reasonable.
Lastly I care about the coverage ratio provided—since I never FULLY trust values to be correct I want it as high as possible.
Here is a chart adjusting coverage ratio for the lastest term preferred sold (PRIA-E)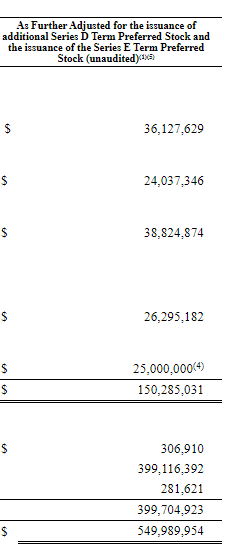 Each line on top is a preferred issue–a total of $150 million. The bottom line is total assets which we can divide by the $150 million to come up with 360% +/-. It is interesting to note that when they first began selling term preferreds their ratio was 800% or so.
So let's assume assets are overstated (I always assume they are overstated by some amount)–by a lot. For us to move to a coverage ratio of just 200% they would need to lose $250 million!!! Yikes. Needless to say this is not likely to happen–I hope.
With all the above in mind–and just in my mind–I have started to build modest positions in some term preferreds of Priority Income Fund. I bought a small position in the 7% PRIA-D issue when it came to market and I will buy others soon. I may swap out the D issue because it is the longest term and I would rather be a bit shorter in maturity.