So everyone knows by now that Consumer Confidence (as measured by the Conference Board) moved strongerly higher in August with a reading of 13.4, which is the highest reading since October, 2000.
On Monday we had written "For the coming week we have Consumer Confidence being released on Tuesday and while this is unlikely to garner much attention any sizable shortfall to last month (127.4) could be meaningful as the consumer drives the economy and any failure in confidence could send consumer spending down hard".  Obviously there is no confidence problem and outside of a 'black swan' event we likely will have a decent economy through the balance of the year.
Today with the release of the strong confidence numbers we got one of the few upticks we have seen lately in the 10 year treasury yield with a a bump up to 2.88%–just over 3 basis points higher on the day.  This is not meaningful to investors and share prices remained flat.
You can see in the current chart below of current confidence trends that after flattening for a few months confidence 'falls off a cliff' just as we enter a recession.  I think we can rest assured that we will not see a recession anytime soon.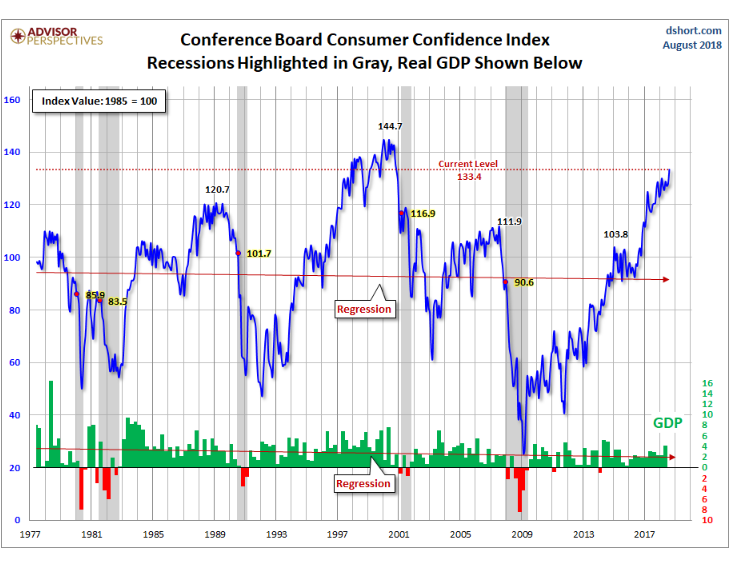 So there are a few coincident indicators we watch-1 important one, is the level of consumer credit which could be spiking higher with rising confidence.  To us this simply means that the more debt (in particular credit card debt) that the consumer takes on the deeper the next recession will be.
Here is a chart from the Fed Reserve Bank of New York showing current (though the end of Q2) levels of household debt.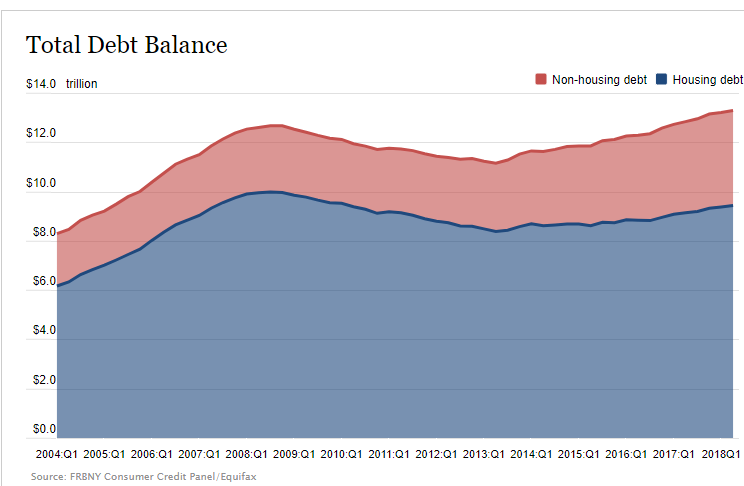 It is a bit hard to read, but what it shows is that the non housing debt of the consumer is now at $3.86 Trillion and it had previously peaked at $2.69 Trillion is 2008.  I will be watching the next few months and quarters to see where this heads—I think it is reasonable to assume we will see large jumps in these numbers ahead as consumers choose to believe that the party will go on forever–it won't–but it will for the next few months.