Bad news is good news, good news is great news–even no news is good news. So if you run an airline and your load factor goes from down 90% to down just 85% it is great news–I guess. The real question is where will it be next fall? With the FED pumping at the rate of $50 to $100 billion a week there is no use trying to guess where crazy markets will top out.
I have been chasing the new Pinnacle Financial 6.75% preferred issue all morning–I thought it would trade strong, but not quite this strong. I thought I would be able to get a decent 'flip' (short term holding to be sold for 1-2% gain). I have raised my bid 3 times–now I am done–I get it at $25.35 or not at all–oops it just executed so I have a 1/2 position and would be happy to sell around $25.75–or if it drops go ahead and add the other 1/2 position.
I am maintaining the 70% invested position that I have had and which has had great capital gains. Mostly utility and CEF preferreds and baby bonds–they are keepers.
I did get out of the UMH Properties 6.875% UMH_B shares–took a few days to get the price I wanted to ensure my 2% dividend capture—I wrote last week about this one (and others).
I forgot to mention I had taken a 1/2 position in the New York Mortgage Trust 7.875% perpetual preferred (NYMTO) last week on 5/22–at $18.38. I had written on an upbeat report out of NYMT the day before. The dividend is suspended on these cumulative shares right now, but I suspect they will reinstate soon. I have now sold my position at $19.60.
I wish I would have jumped on the new Stifel 6.125% perpetual—a $2/share gain in 8 days would have been possible-crazy–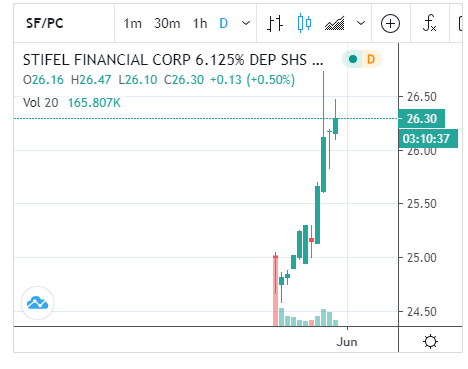 I suspect I will be doing a lot of flipping and dividend captures all summer long–not likely to see great buying opportunities any time soon–party on!!