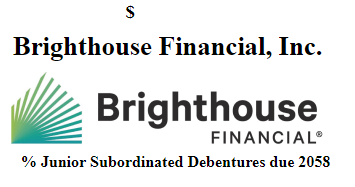 As predicted by our reader RazorbackEA Brighthouse Financial has priced a new issue of baby bonds with a coupon of 6.25%.
There will be 15,000,000 shares sold (with another to cover overallotments of 2,250,000) and they will have a maturity date of 9/15/2058.  An early redemption is possible beginning 9/15/2023.
Quarterly payments will start on 12/15/2018.
This issue allows the company to defer interest payments for one or more consecutive periods that do not exceed five years without a default being declared.
The issue will trade under the ticker of BHFAL within the next 30 days.  There will be no OTC grey market trading with this debt issue.
The final term sheet can be seen here.