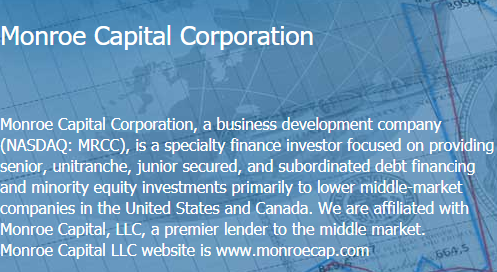 Business development company Monroe Capital Corporation (NASDAQ:MRCC) is selling a new issue of baby bonds with a maturity date in 2023.  The new issue has not been priced as of this moment.
Currently MRCC does not have any outstanding baby bonds
The new issue will pay quarterly interest payments and will trade with the permanent ticker symbol of MRCCL.  The shares will not trade on the OTC grey market prior to permanent trading on NASDAQ.  Trading will begin in the next 30 days (likely within 1 week to 10 days).
The board of directors approved a change in the asset coverage ration for the company from 200% to 150% effective 6/21/2018.  As of 6/30/2018 the company had a coverage ratio of 312%.
The preliminary prospectus can be found here.