12/20/2022–name changed to Uhaul Holdings effective 12/19/2022.
2/7/2020–an added note is that the notes below are 1st backed by the collateral of the notes and 2ndly  backed by a guarantee of parent company Amerco.  See a further note here.
We have mentioned on here numerous times the UHAUL Investors Club which is an alternative way to invest is a fairly conservative way for conservative income investors.
We would be remiss if we didn't again thank kaptain lou (Early Retirement Advisor on Seeking Alpha) for bringing this opportunity to light.
Simply this is a way to invest in what is termed 'asset backed' debt in small amounts (or large) with varying coupons and maturity dates.
UHAUL is owned by AMERCO (NASDAQ:UHAL) and the debt of AMERCO is unrated (as far as we can find).  Also in our due diligence we note that AMERCO had filed for Chapter 11 bankruptcy in 2003.  Since that time, and no doubt with the aid of the previous bankruptcy, the company has performed very well.  AMERCO common shares now trade around $340/share and for the 6 months ending 9/30/2018 reported net income of $291  million.
The companies recent 10-Q (quarterly report filed with the SEC) can be found here.
We started 2 IRA accounts with the Investors Club in May, 2018 and have deposited almost 1/2 of this years IRA contribution to the accounts (we had previously already started our 2018 contributions in our eTrade accounts).  Investors are able to transfer money from other IRA accounts into UHAUL, but we are still in the 'trial phase' and since the short term investments available right now have coupons of only 3 and 4.15% we are unlikely to get too carried away with deposits into these accounts.
Here is a screenshot of one of the accounts.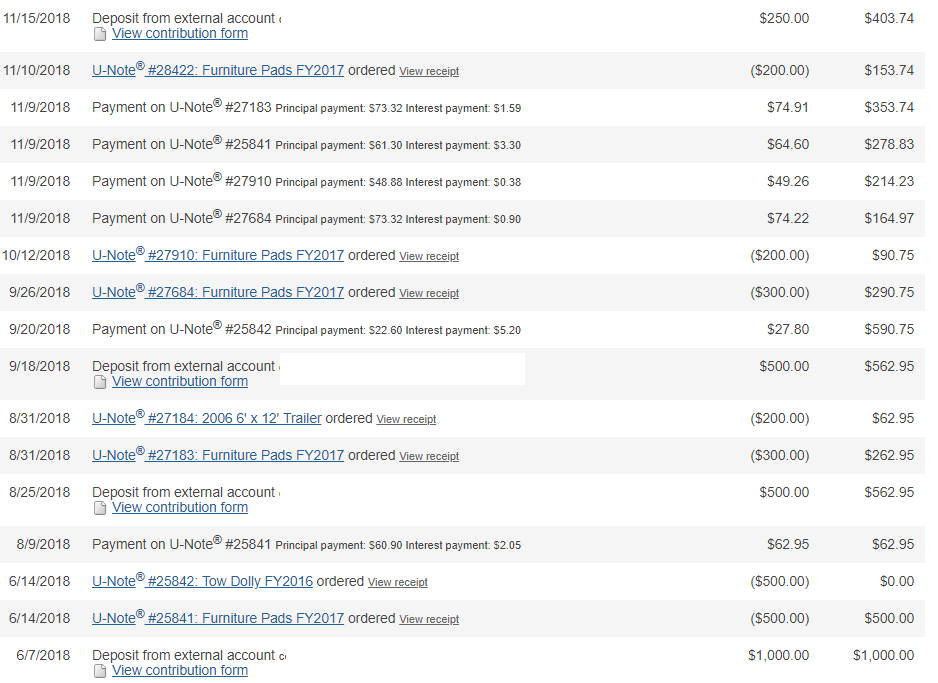 You can see that payments to us include principal and a interest component.  kaptain lou describes it as 'annuity like' in that you receive part of your investment back with each payment.  Once payment are received once you have $100 or more you can re-invest.
The deposits and withdrawals (if so desired) are all done on the Investors Club website and we have found the process to be easy–although the transactions take a few days longer than what we would think are normal–when I pay my credit card online they snatch the money the same day–these transactions take about a week.
The Investors Club website is here.
Of course we can not recommend an investment for anyone because we never make any recommendations.  We feel comfortable with our experience so far.