Note that this is not a recommendation to purchase any security.  We plan to purchase shares when it begins trading, but that is based on our needs.  No one on the internet is qualified to recommend anyone purchase securities as there is no knowledge of the suitability for any given investor.
Additionally we will be purchasing shares in the Medium Duration Income Portfolio.  Currently it is 80% invested, but when the Arbor Realty baby bonds (NYSE:ABRN-CL) are called on the 27th of April it will be just 70% invested so we need to add an issue to get back to 80% now and 90% soon.
OFS Capital (NASDAQ:OFS) is a business development company that recently has sold a baby bond issue with a coupon of 6.375% .  The issue has not yet begun to trade, but we expect it will do so within the next week.  When the new issue trades it will trade under the permanent ticker of OFSSL and will not trade on the OTC Grey Market prior to the permanent exchange trading.
Below we do a bit of a drill down on OFS Capital.  It is NOT meant to be exhaustive, because honestly to make an investment in the companies new baby bonds we don't feel a need to dig tremendously deep.
As with all BDC's they must have an asset coverage ratio of 200% (or meeting certain requirements it is now 150%) which adds a bit of safety to holding senior securities of a BDC.  A senior security would be defined as debt or preferred stock–anything senior to the common.
OFS Capital loans money to middle market companies. In the case of OFS these loans are in the form of Senior Secured Debt (70%) and subordinated debentures (19%).   The balance of their 11% of investments is in common and preferred equity.
OFS has financed their investments with an extremely low cost of capital as they own a SBIC (small business investment company) and thus are able to borrow with a guarantee from the Small Business Administration (SBA) at the rock bottom rate of 3.18% on average.  This should be very important to investors as this is a competitive advantage for the company.
The company is fairly small with total asset of $357 million (as of 12/31/2017) of which $73 million was in cash.  The company did a stock offering in 2017 and thus with repayments that have come in they have not done a great job of getting the cash invested.  We like to see some cash on the balance sheet, but this appears to be excessive and obviously doesn't earn much of a return–as a potential debt holder we are not overly concerned with this.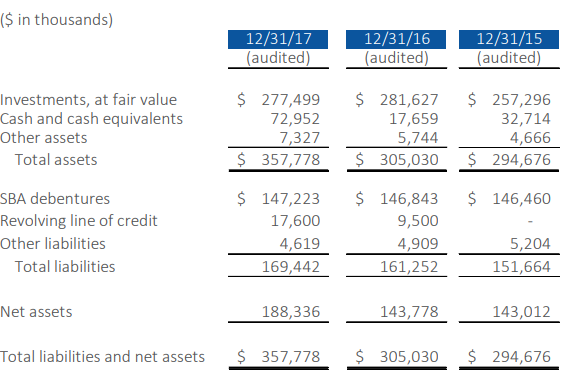 Net Investment Income was at $16 million, $14 and $13 million respectively the last 3 years.
Net Investment Income per share fell in 2017 to $1.28/share from $1.46/share in 2016.  In general this was caused by there being 30% more shares outstanding in 2017 from the share offering earlier in the year.
The last 3 years OFS has paid a distribution to common holders of $1.36/share which means in 2017 they didn't quite cover their dividend.  Of course this is a negative, but being within 8 cents per share for a year is nothing to be overly concerned with–as long as it is not a longer term trend.  In more recent news the company paid a special dividend of 37 cents in early 2018, based upon capital gains on investments.
Common shares are trading at $10.72/share which is a huge discount from their Net Asset Value of $14.12/share.
The company has a fairly narrow portfolio of investments with just 35 companies in the portfolio (as of 12/31/2017).  This obviously could be a negative as the average loan is sizable at $7.5 million.
OFS  claims to have daily, weekly, monthly and quarterly evaluations of the investments and from the result of their evaluation rates investments in 1 of 7 categories (1 being the best and 3 being average).  On 12/31/2017 all but $4 million of their investments were rated 2, 3 or 4.  This is always the part where common share owners of BDC's simply have to "trust" management–since we don't fully trust any management we simply don't own common shares.
Apparently their credit monitoring has been rather successful as the company has a history of very low levels of non-accrual loans.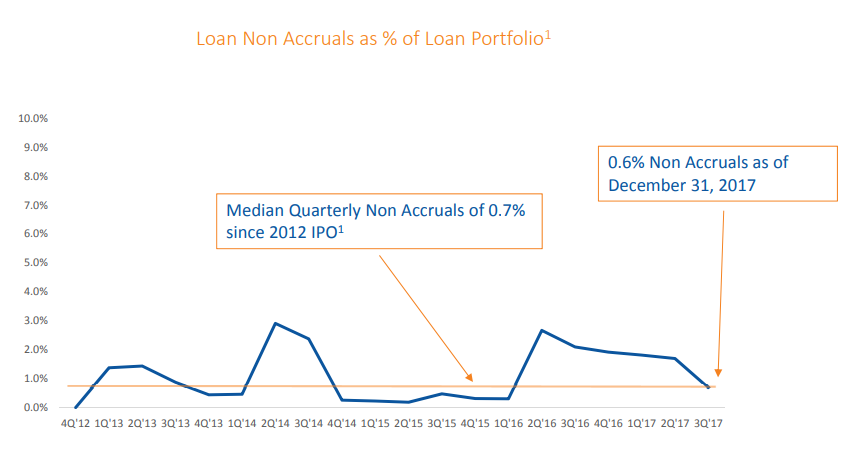 So at this point we have enough information to make a modest investment in the new OFS baby bonds, but we want to go a bit further to make sure we cover an important point for anyone reading this report.
OFS Capital is controlled by Richard Ressler.  Ressler owns Orchard First Source Asset Management which owns 22% of OFS Capital.  Ressler is also the Chairman of CIM Commercial Trust (NYSE:CIM) and the CIM Group manager of over $27 billion in real estate.  Investors should consider that common holders have little influence in the company because of the weight of Richard Ressler.  This is of minor importance to us as a potential debt holder, but would be a bit concerning if we were going to own the common.
So while we have concerns with OFS Capital they are mainly the same concerns that we have with all BDC's–they make risky loans to companies at high interest rates.  We think that this is a minor risk with reasonable management, but if we are to enter a recession we would likely look to exit BDC positions.