I've written just a bit about CLOs (collateralized Loan Obiligations) lately and was just doing some reading of a SEC filing by OFS Credit (OCCI)–another company with a business based on CLOs.
OFS Credit, Eagle Point, Oxford Lane and Priority Income Fund all have term preferreds outstanding–and from that fact stems our interest in the companys.
CLOs are kind of hard to explain–they are kind of black box investments (at least to most of us). I ran across a chart that does a decent job of showing the structure of a CLO. Likely most everyone knows that a CLO is a package of junk rated debt that is repackaged and resold. The CLO starts off as junk and with some hocus pocus parts of the package are turned into investment grade.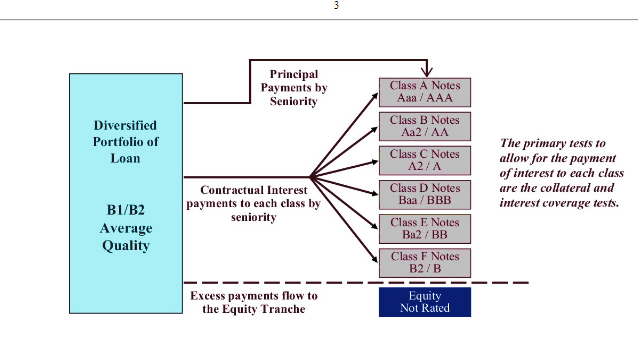 In this chart you can see the priority of payments to holders of the various tranches. Those at the top of the stack receive modest interest rate payments–but they have the least risk. Those at the bottom, what is called the equity class get the highest interest payments–but they are by far and away the class with out sized risk.
So the point is–know what you own. While I haven't gotten into all the detail yet I can tell you most of the publicly traded holders of CLOs hold a large portion of the equity class–the riskiest class.
I know some readers will get tired of my writing about a particular subject–that's ok. Part of my mission is to help educate newer folks to some of the risks out there. We have over 1,500 new visitors every day–they are googling for information–so if we can help even 5 people understand what they own we are successful.